Lady GaGa returns with edgy and electric sound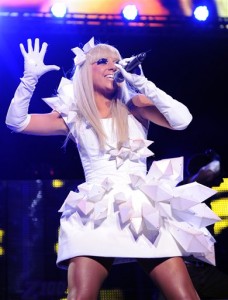 More disco, paparazzi and p-p-p-poker? That's right, Lady Gaga's back. 
Lady Gaga released her two-disc sophomore album The Fame Monster on Nov. 23 as a follow-up to her first dance-heavy, techno album The Fame.
Known to many only for her billboard hits "Just Dance," "Love Game" and "Poker Face" and her over-the-top outfits, The Fame Monster casts Lady Gaga in a new light. While she stays true to her techno-heavy roots and thumping bass backgrounds, the new album manages to highlight her powerful, throaty vocals while keeping the party-esque theme.
Lady Gaga released her single "Bad Romance" before the actual album, and it was the perfect hook. Catchy, off-the-wall and anthemic, it was no doubt a continuation of The Fame with a little more grit. 
The lyrics of her new album continue to center around romances-gone-wrong and dancing, but this time a few take a darker, edgier twist. Her ballad-like number "Speechless" contains heavy guitar riffs, prominent piano and her voice pleading "I can't believe how you slurred at me, with your half-wired broken jaw, you popped my heart strings." Her sci-fi song "Monster" contains the chorus "He ate my heart, that boy is a monster," a sure change from her reckless, party lyrics of her first album. 
This album also features two tracks where Lady Gaga has collaborated with other popular artists. "Starstruck" features Flo Rida and Space Cowboy and proves to have a funkier twist with voice effects and offbeat techno rhythms typical of DJ Space Cowboy. On the other hand, "Telephone" is a duet with Beyonce, which despite the powerful synthesized beats, manages to highlight both singers, whose voices complement each other nicely and add a layer of depth and interest to the song.
The best song on the album is "Alejandro." Its clever, yet slightly politically incorrect lyrics and controlled vocals come together in a thumping crescendo of electric keyboard, techno beats and Latin rhythm. It is a multi-layered almost satirical song that truly shows the change Lady Gaga is going through as an artist.
She may have started as a party-loving one hit wonder, but The Fame Monster does nothing if not prove that Lady Gaga has excellent range. She is moving towards a more sophisticated vocal style while retaining the catchy beats and funky style that made her famous.
The biggest difference between her sophomore album and debut was that she learned to no longer be formulaic. Almost every song on The Fame followed the same routine, but each song on her new album offers something new, whether it be more focus on un-synthesized instruments, a more vocal-heavy song or the incorporation of a new type of beat.