Anonymous apps elicit more harm than good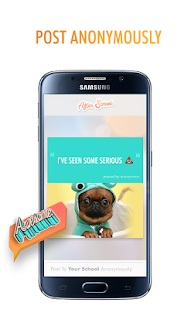 'Hey, a friend added you on After Hours! Join the fun!' a text message reads, indicating yet another anonymous app has been created. Marketing itself towards high schoolers, anonymous social media websites revolve around giving compliments, who's hot (and who's not), confessions, parties, hook-ups and meeting new people.
These apps have repeatedly come under fire in recent years by school administrations across the country for a lack of transparency as to who is posting each anonymous message when there is no name attached.
"Anonymous social media apps have zero accountability for what people say about others," senior Byron Tam said. "They are intended to hurt feelings, and that's it."
According to an Aug. 2017 CNN article, anonymous apps have gotten out of control, becoming a home for nude photographs of students (many of whom are underage, therefore constituting child pornography), cyber bullying, threats and even threats of school shootings.
In wake of growing concern over social media apps, MCPS has begun to push digital citizenship resources and distribute them amongst schools. Such resources include posters encouraging students to 'T.H.I.N.K.' before accessing social media— assessing how truthful content is, whether it is helpful, if it is inspiring, if it is necessary and if it is kind.
"I tend to believe that anything done anonymously never helps anyone," principal Brandice Heckert said. "No one feels the need to be responsible in what is talked about online if there's no name attached to them."
The app After School is one of example of the many apps specifically made for students to talk anonymously.
According to their website, the app is where "authenticity meets positivity," and is meant to be a place where people may chat, learn about fun new events and meet new people while being grouped by school.
On the CHS After School page, most posts have to do with anonymous confessions and sexual trysts.
One of the posted confessions reads, "I am secretly in love with Hannah." Another post reads, "Lowkey have a 3 step plan to get in Sydney's pants."
The app was removed twice from Apple's App Store from 2014 to 2015, both times due to violence and bullying reports on the platform. It returned in April 2015, complete with an Artificial Intelligence tool called First that scans through messages for violent intent and automatically alerts authorities of any threat. This is in response to the amount of school shooting threats on the app.
According to a recent survey of 119 CHS students, 34 percent of students had used an anonymous social media site, but 88 percent agreed that the sole purpose of these apps is to hurt instead of help.
Among other popular anonymous social media apps are Yik Yak and Brighten, both of which have been heavily used (and subsequently abused) by CHS students. Both apps have since been taken down from Apple's App Store, just other victims of the rise and fall of anonymous social media.
"Anonymous apps can be extremely damaging to reputations," Heckert said. "The idea that students can stay anonymous and say anything on these sites without repercussions alarms me."