Frozen Strawberries Infecting Maryland with Hepatitis A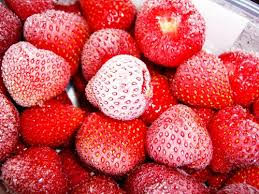 As of early September, cases of Hepatitis A have been breaking out in different states, including Virginia and Maryland.  Smoothies were the cause of this sudden outbreak.

Frozen strawberries have lately been a health risk rather than a health benefit. Imported from Egypt, frozen strawberries used by popular smoothie chain restaurants such as Tropical Smoothie Cafe in smoothies have been leading to Hepatitis A.
"The fact that people in Maryland were directly affected is worrisome," junior Catherine Gordon said.
Cases from at least eight different states of Hepatitis A have been reported this September.  Although Virginia is getting the worst of it, with more than 55 reported cases, Maryland is receiving some of the bad luck.
Hepatitis A is no laughing matter. It is defined as a liver disease which one can contract through either contact with an infected person or contaminated food or water, which is this case is frozen strawberries. Hepatitis can cause mild to severe illness but is treatable by vaccine. It is rarely fatal, but can cause fever, nausea and jaundice, a term for when one's skin and whites of their eyes yellows.
According to the World Health Organization, the hepatitis A virus is one of the most frequent causes of food borne infection.
The frozen strawberries resulting in hepatitis A have been removed from chain smoothie restaurants when they were to discovered to be the cause, but cases are still being reported. Hepatitis A can take anywhere from 14-28 to incubate, and symptoms can take up to 50 days to appear.
"It is hard to believe that this would be allowed to happen even with all the restrictions on food in the country," sophomore Mia Hazra said.
According to the United States Food and Drug Administration, Tropical Smoothie Cafe's firm declared on August 19th that they had ceased the use of the frozen strawberries from Egypt nationwide.
Although the infected strawberries are no longer served, this dilemma has put forth new views on foods shipped from other countries. The frozen strawberries from Egypt were infected and caused disease; the question is what other imported foods come with dangerous health violations.
"[The outbreak] makes me more self-conscious of where the food is coming from if it is from outside the U.S.," junior Catherine Gordon said.