A Guide to National Pizza Party Day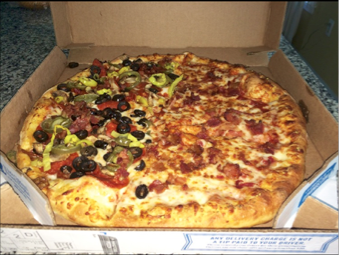 By Brooke Weiner, Staff Writer
May 20, 2016
A classic favorite. A staple in the college student diet. According to some, best eaten cold at 3 a.m. Pizza. Today, May 20, is National Pizza Party Day.
Students are celebrating in all different ways. Regardless of the method, all are celebrating by eating a pizza.
"I celebrated with the Literary Magazine," sophomore Ruthie Renberg said. "We had a production party so we got a bunch of pizza."
Students such as Katelin Gleason, Lelia Durand, and Maggie Cammaroto plan on celebrating the simple way- just by ordering a pizza for themselves. The Observer came up with three additional ideas to make the most of your National Pizza Party Day.
1. Try a new, funky type of pizza.– Follow this tried and true recipe for a pizza quesadilla.
First, get out the ingredients. You will need ½ pound of ground beef, 1 tablespoon of taco seasoning, ¼ cup of water, 4 tortillas, 2 cups of cheddar cheese, ½ cup of refried beans, ¾ cups of salsa, 1 diced tomato, pepperoni, and 3 green onions.
Next, cook the meat until it is brown in a pan with medium heat. Drain the grease, mix in the taco seasoning, add the water, and simmer for 10 minutes.
Third, sprinkle the cheese (1 cup) over two tortillas, add the meat, and the salsa.
Now, place the re-fried beans on the two empty tortillas and put those tortillas on top of the other two, bean side facing down.
Finally for the pizza part, sprinkle the remaining cheese on top of the two quesadillas, in addition to the pepperoni and sliced onions. Then place on a baking sheet and bake at 350 degrees for 10 minutes.
2. Go to Comet Ping Pong for perfect pizza– This D.C. restaurant has amazing pizza, but they also have an entire room full of ping pong tables in the back. Chill with your friends and enjoy a slice, all while perfecting your game.
3. Host your own pizza party– Go big or go home. Invite over a ton of friends over, and have a personal pizza delivered for everyone from Dominoes. It is enough to get anyone into the spirit of this holiday. After all, what better way to celebrate the holiday of the best lazy day food than by eating it without even leaving your house?