CHS Community Mourns Loss of Junior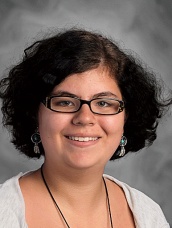 Junior Anna Castillo (Maya Castle) passed away April 16 at the age of 16. She is survived by parents Daniela and Victor Castillo and extended family members.
Maya's legal name was Anna Castillo, but she preferred to be called Maya Castle. She was especially active in the CHS Art Department.
"Maya regularly put others in front of herself," art teacher Jacquelyn Washam said in the eulogy she delivered for Maya. "She would stop in my room and ask if I needed help with anything. She constantly lent me a helping hand,
whether it was preparing for a class, organizing art materials or cleaning out paint brushes. It was these small acts of kindness that made her a joy to be around."
Sophomore Kara Baird recalls how Maya often made jokes and was upbeat.
"My rst impression of her was that she was a down-to- earth person who always had a smile," Baird said.
A memorial service for Maya was held April 23 at the Pilgrim Lutheran Church in Bethesda.
"I'll miss her red hair that I saw every day, the drawings she made on her hand, the way she listened to my problems, but mostly I'll miss her smile," Maya's friend junior Isabella Esparza said. "She was like
family to me and my other friends."
Maya also had a powerful effect on her teachers.
"She was a free spirit and had a really creative mind," said Maya's Honors English 11 teacher Jeffrey Savett. "In the classroom she always had some interesting perspective."
Those impacted by Castle's passing are encouraged to talk to their counselors.
Students who are struggling emotionally should also go to a teacher, counselor or contact the Montgomery County Crisis Center (240-777-4000), which is available 24 hours a day.
"She was one my greatest friends, and she was always there when I needed her," Esparza said. "She was a
shoulder to cry on, a hand to hold, and someone to laugh with and have a good time with."