MCPS Search for New Superintendent Comes to a Close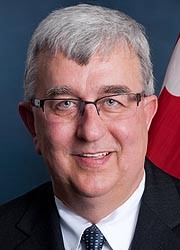 MCPS' search for a new superintendent is over. The Board of Education (BOE) Feb. 4 conditionally appointed Dr. Jack Smith as the next superintendent effective July 1.
Smith is currently the interim superintendent of Maryland schools and former superintendent of schools in Calvert County Public Schools in Prince Frederick, Maryland.
"I am very thrilled because from my cohorts and people who have worked with Dr. Smith when he was a superintendent, he is supposedly amazing," Principal Joan Benz said. "He is student-centered. He looks at data. He is skilled at working with the budget to bring resources to the county schools."
According to a MCPS press release, the BOE reviewed applications from over 70 different applicants from all over the United States. A crucial part of the Board's search was finding a new superintendent who would be engaged in the community, and Smith is known for using innovative strategies in the classroom.
According to Benz, the county is composed of three unions, and each of those unions composes a profile of characteristics they would like to see in a superintendent.
The members of the Montgomery County Education Association sent out a letter congratulating Smith on his appointment.
According to a Feb. 4 Washington Post article, Smith is honored and excited to start working with the county on behalf of the children.
Student Member of the Board junior Eric Guerci was involved in the decision to appoint Smith, and is looking forward to working with him to improve communication with administration and students.
"I will be working with Dr. Smith on a robust student outreach plan so that he knows about the amazing accomplishments of our students every single day," Guerci said. "In addition, it is imperative that Dr. Smith is passionate about working on behalf of all students to ensure that all of us, regardless of what we look like or what our background is, are able to thrive in our futures."