Teachers share past jobs before becoming Bulldogs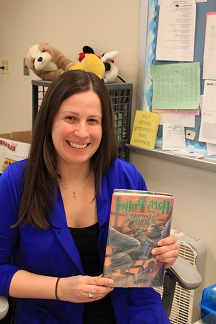 Contrary to students' popular beliefs, CHS teachers have lives outside the school walls. A typical teacher's existence consists of more than grading papers, updating Edline and responding to countless emails from students. Even more surprising is the fact that teaching, for some staff, is not a first profession. A fair amount of CHS teachers experienced careers in other fields before becoming the teachers we now know and love.
Science Teacher James Nugent
Nugent has had his fair share of experience in the professional world, from processing sales at a women's clothing store to tutoring juveniles in science in the Rhode Island prison system. However, his longest pre-education profession was his 21-year stint in the U.S. Navy.
According to Nugent, due to his time in the Navy, he has "literally been all over the world."
In terms of memorable experiences, the Navy supplied him with plenty.
According to Nugent, stories that stand out to him include rescuing a parakeet and eight crew members from a burning tanker, spending two weeks under the sea, sitting atop nuclear armed projectiles and taking off in a helicopter from the deck of a ship, among many others.
"I've seen the power of the ocean and will always respect, fear and love it," Nugent said.
Nugent also spent a year living behind the huge minefield surrounding the base in Guantanamo Bay, Cuba, before it held prisoners, as part of a command in charge of training ships to be used there.
In a brush with fate, Nugent avoided the 9/11 Pentagon attacks because at the time, his office was undergoing reconstruction, and he was working a mile and a half away while it was being completed. Otherwise, the plane would have hit the Nugent's office in the Pentagon.
Nugent decided to give up the Navy and pursue teaching in 2004 in an effort to allow his wife to pursue her own career.
"I don't have to worry about killing anyone," Nugent said on discrepancies between his professions. "And better yet, no one is trying to kill me."
Though his two careers are very different, Nugent has been able to carry skills with him from his time in the Navy into his teaching. However, according to Nugent, the imagination required in the Navy to be fully prepared for any mission is similar to attempting to prepare high school students for the unknown in teaching.
Nugent's experiences in the Navy have instilled in him the abilities to wake up early, to multi-task, to operate while sleep-deprived, and to de-arm thermonuclear warheads—though this skill has not been utilized at CHS thus far.
"I have genuinely loved both of these careers, and I have a passion for doing them as well as I can," Nugent said. "There's still a lot of room for improvement as a teacher, but I'm working on it, just as I did in the Navy."
Science Teacher James Fishman
Prior to becoming a teacher, Fishman was a marine scientist both at the Virginia Institute of Marine Science, where he was involved in the research of habitat restoration of bay grasses in the Chesapeake Bay, and at the Rosenstiel School of Marine and Atmospheric Sciences in Miami, Florida, where he researched grasses in Biscayne Bay and Tampa Bay.
"I swam with cownose rays, [have] been chased by dolphins, gave a piggyback ride to a seahorse, and got stung by lots of jellyfish," Fishman said.
As part of his job, Fishman analyzed data, submitted reports and published in scientific peer-reviewed journals, dedicating much of his time to the Chesapeake Bay.
His transition into teaching came about when Fishman was given the chance to share his research at local high schools and enjoyed it so much, he decided to make it a full-time job.
"Even though fieldwork was physically demanding, teaching is a much more difficult career," Fishman said. "I have to make far more decisions per day."
According to Fishman, both professions require the ability to work with others in a professional community. However, he feels that teaching enables him to better benefit society.
Social Studies Teacher Adam Field
Before teaching, Field worked in store management for Hecht's, a department store which has since been bought by Macy's, and in store management and the buying office for Macy's.
According to Field, some interesting experiences from his time at Macy's include the "swanky" parties he was able to attend, such as when a new fragrance was being released.
"During Thanksgiving of 1984, I got to be a part of the Macy's Day parade," Field said. "I didn't get to walk in it, but I got to be a celebrity escort and escort very famous celebrities…three Smurfs."
While at Hecht's, Field experienced an interesting encounter with a stripped-down man in his stock-room office, who claimed to have thought to be in the fitting rooms. He also witnessed a shoplifting incident in which he attempted to chase down the shoplifters and watched as the getaway car drove off—with stolen plates from his own car.
As exciting as these experiences were, Field found the profession unfulfilling.
"I have an MBA, and I worked hard, but did not feel I was giving back to society," Field said. "I like working with teens, so I went back to school."
Despite the obvious differences between the two professions, both jobs involve long hours, high pressure and management of groups of people.
"Teaching allows for a more normal life and a more set schedule," Field said. "It keeps me young."
English Teacher Jennifer Miller           
Miller majored in English in college, with a concentration in publishing. Prior to becoming a teacher, she worked briefly in the copy department of Scholastic, Inc. and as a copy editor for a tech magazine in New York.
According to Miller, she was handed the first two books of the Harry Potter series her first day working for Scholastic and was told to edit the third book before it was published.
That's right, she carried around a manuscript of the third Harry Potter book in her bag and pulled it out to read on the subway.
However, Miller sought more excitement and interaction at work.
"Working for the tech magazine, I found that my weeks were all the same, and I wasn't overly excited about the traditional nine-to-five office job," Miller said. "I've always had a passion for writing and literature, so if I wasn't going to stay in the publishing world, teaching English felt like the next logical step."
The transition has provided Miller with an unpredictability not found in her previous career.
According to Miller, teachers "never have the same day twice" and she values the opportunity to move around, interact with many people, and most importantly, to help students gain confidence in their writing.
"I still help work toward a product," Miller said. "In publishing it was always the next issue of the magazine, but in teaching it is that finished essay or the AP exam."
Social Studies Teacher Paul Jacobson
Prior to his 10 years of teaching, Jacobson worked a total of 25 years in retail management, 15 for Peoples Drug, which has since been bought by CVS, and 10 for Bed Bath & Beyond.
"I started at Peoples at 16 at the soda fountain, then worked my way up through college at UMD, where I ran cross-country and track," Jacobson said. "I became a manager after college and managed the 24-hour location in Bethesda."
While in retail at Peoples, Jacobson had to work on Christmas. However, he logged even crazier hours at Bed Bath & Beyond, working at one time for over 24 hours to get the Rockville store ready when it first opened.
According to Jacobson, he found retail to be "quite boring and not intellectually challenging," filled with hard work and long hours. After his younger brother made the switch from retail to teaching Social Studies at Whitman HS, Jacobson decided to do the same.
He went back to UMD for two-and-a-half years to get his education degree while he was still working at Bed Bath & Beyond.
He finds teaching to be "much more satisfying," and he enjoys the break in July and August, along with the opportunity to get snow days off.
Working in retail has helped him learn to deal with people and the public and to be committed to success, skills that he has been able to use as a teacher.
"I am continually doing new things and learning new things," Jacobson said.
Despite their memorable experiences in previous careers, the teachers at CHS have chosen to pursue teaching as a way to give back to the community and educate the future of our country. It is each teacher's unique skillset that creates such a diverse staff at CHS.