New staff member brings life lessons to CHS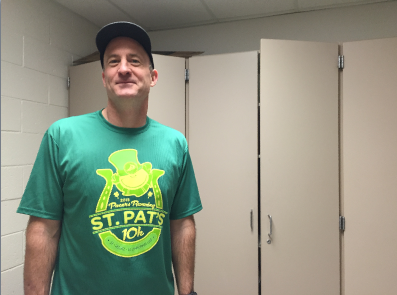 After serving six years in the U.S. armed forces, new staff member Matthew Burke looks to pave a new trail in the field of education.
Burke came to CHS this year from Gaithersburg Elementary School because he aspires to become a teacher and gain more experience teaching at the secondary level.
Before joining the teaching community, Burke served in the U.S. Army from 2008 to 2013. He did his training to become a Field Artillery Officer at Fort Sill, OK, and was then stationed at Wainwright, AK. While in Alaska, his unit was deployed to Kandahar, Afghanistan from 2011 to 2012.
Burke became interested in teaching while in Alaska, where he served as a volunteer in the Literacy Council of Alaska. There he tutored a young student in mathematics and English, which sparked his passion for teaching.
"One of my favorite aspects of being an Army officer was that I was required to train and develop soldiers, so making the transition to education was an easy one to make," Burke said. "I believe in service to the community and our country, so when I decided to leave the military, I knew I wanted to work in that capacity."
While many upperclassmen struggle with college decisions, Burke always knew what he wanted to do with his life.
"I have always felt the need to serve," Burke said. "As a kid when I saw something in a movie on the military, I remember thinking, 'That is what I want to be.' The amount of intellect, perseverance, grit, athleticism and resourcefulness required of military leaders is unrivaled by any other profession."
Burke began his military career when he first joined the Junior Reserve Officers' Training Corp (JROTC) at Magruder High School, and received a full scholarship to Radford University in Virginia through its ROTC program.
However, after years of serving, he felt ready for a change.
"Leaving the military was a difficult decision to make," Burke said. "As I continued to mature, my ambitions and what I thought would make me happy had changed. I wanted to take time to be with family, travel, learn another language, slow life down and enjoy it. I no longer wanted to be in a high tempo, stressful environment."
CHS felt like a good transition into the new life that he wanted to lead.
Burke's ambitions now include becoming an MCPS teacher, focusing his attention on the elementary school level.
Starting this summer, Burke will be attending graduate school through the University of Maryland with the dream of obtaining a Master of Education (M.Ed.) with a certification in elementary education.
While settling into his new job, Burke especially looks forward to the new people that he will be able to interact with in the CHS community. He enjoys hearing about their experiences and perspectives on life.
"There are plenty of people at the school who add color to life, and I can't ask for much more out of a work environment," he said.