New and improved Google Classroom replaces Edline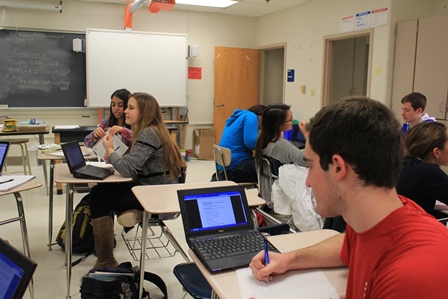 The first step towards replacing Edline in MCPS has begun with the implementation of Google Classroom, a brand new interface that is already taking root in CHS classrooms.
The idea to include Google Classroom in the curriculum originated at the level of the MCPS superintendent.  As an educational supplement, it replaces some of Edline's functions, and it is the latest in a series of shifts to the use of Google technology in the MCPS curriculum.
"Using Google Classroom has been a part of the wider use of the Chromebooks in classrooms," Principal Joan Benz said.  "As a part of these laptops, it provides a new opportunity to help continue bridging the digital divide for students who require computer access to complete their work."
To access Google Classroom, students sign into their MCPS-provided Gmail account in order to access Google Classroom and complete tasks assigned on the website.
"It's like moving from MapQuest to Google Earth," Benz said.  "More and more as time goes by, things like assignments, surveys and tests become more convenient to do online."
AP Environmental Science teacher Gary Rogers has successfully utilized Google Classroom within the curriculum since the beginning of the school year.
According to Rogers, Google Classroom replaces Edline as a more modern, virtual package by giving students opportunities to access, complete and store assignments virtually and then potentially share them with peers to present a more collaborative educational opportunity.
Google Classroom appears as a stream of news and communication from teachers for each class.  It gives them an opportunity to make announcements, share class information and hand out, collect and store information in the Google Drive.
"Google Classroom is an upgrade to Edline in many ways," Rogers said.  "It shares recent announcements and assignments, it connects to virtual storage and it not only allows me to share information like on Edline but also lets me collect that info online and if applicable, allow students to collaborate as well."
So far, Google Classroom has proven itself to be a helpful new experience with regards to organization of assignments and teacher communication.
"It's very convenient to have access to every single assignment that Mr. Rogers posts," junior Sam Lin said.  "It has helped me keep track of my work."
According to Digital Art teacher Amy Gilbert, the fact that Google Classroom provides a great amount of storage space is very helpful.  Before, she had to clear off old assignment files off the computer every week, but now her students can store their work online for use in a PowerPoint at the end of the year.
Google Classroom does not completely replace Edline because it lacks functions of the latter such as the ability to update students' grades.  The two sites will be used in conjunction with one another in the courses that have begun implementation of Google Classroom until Edline's functions are fully replaced by other interfaces.
"It's similar in that you find assignments on there," senior Jess Taylor said.  "It's different in that on Google Classrooms you can upload assignments, which makes it more efficient and organized."
Gilbert thinks that a continued partnership with Google will beneficial for CHS.
"I'd like to see them integrate a new calendar that can be customized next," Gilbert said.  "I hope that Google is taking people's input in order to improve the experience of their programs."