Football stays optimistic despite struggles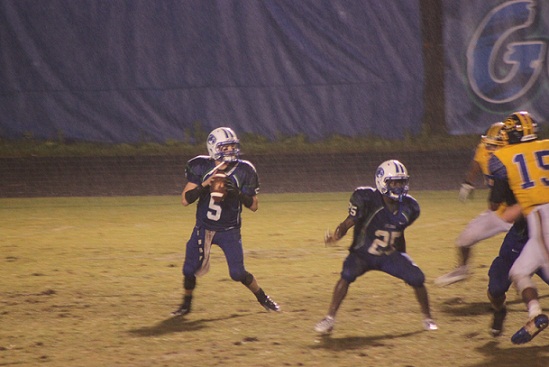 The varsity football team lost 6-3 to Gaithersburg Oct. 11, marking the first time in four weeks that the team has put points on the board. The Bulldogs have been outscored 181-3 in its previous five games.
The start to the season has been rough for the Bulldogs, losing 52-0 to Quince Orchard Oct. 4, 48-0 to Paint Branch Sept. 27, 41-0 to rival Wootton Sept. 20 and 25-15 to B-CC Sept. 6.
"Despite injuries, the kids are staying positive about the season," head coach Joe Allen said.
Along with nagging injuries, a lack of experience at key positions has had its pitfalls for the team.
Sophomore quarterback Sean Strittmatter transferred this season from Good Counsel and has had trouble transitioning into his role as varsity starter.
"It's been hard, being a younger guy coming in and playing quarterback," Strittmatter said. "However, the seniors and Coach Allen have made it easier. I'm still getting a hold of the new offense, and we're getting better week by week."
Despite the recent struggles, members of the team continue to aim high for the rest of the season.
"Most of the guys are seniors, so we have to finish out the season strong for them," junior lineman Alec McGee said. "They won't have another chance to play, so we have to make the most out of every game."
The Bulldogs' recent play has garnered much criticism from students and CHS fans alike for their lack of offensive success, having gone 1-5 on the season. However, there is still a sense of optimism among the student body.
"Even though the team hasn't been performing well, I'm still going to support them at all their games," junior David Fitzgerald said.
The team, which recognizes the need to change its strategy, is planning on employing new methods in order to win.
"We are going to slow the game down a little more and maximize our offensive possessions," Allen said.
According to Allen, the team needs to "get back to the basics and stress the fundamentals" if they are to improve their efficiency.
Although the Bulldogs are now out of playoff contention, the team can look to the future with a ray of hope. The JV squad has been very successful the past two seasons, currently still undefeated and showing promise for a strong future. Current players, including McGee, are anticipating next year's influx of players.
"I'm very excited," McGee said. "If we learn from our mistakes this season and move on from them, next year will be very successful."
Despite JV's success, Allen still wants to see more production from his varsity squad and get back to their winning ways.
"We're excited for the future, but we certainly aren't satisfied with where we are right now," Allen said. "We are going to continue working hard to get better."