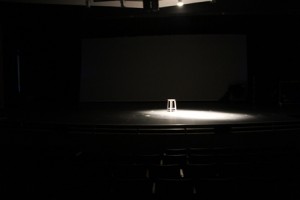 Following the departures of technical director Scott Selman and choral director Carlos Barillo last year and theater director Lynda Scionti in mid-September, students are left wondering: What will become of the CHS theater department? Will Blast and the fall play happen under new direction?
Blast 25 has been confirmed. Although Barillo, Blast's director of 16 years, left CHS last year to pursue a career in nursing,  Matthew Albright, Barillo's replacement as choral director, has agreed to also replace Barillo as Blast's director and producer.
Because Albright was hired only two weeks before school started, the show will not be ready by December, as it was last year. This year, it is going to be in February, and auditions will be held in late October or early November.
"No matter when Blast is or who it's directed by, everybody is excited for it," junior Siobhan Shea said. "We're all already preparing for auditions."
Story continues below advertisement
Albright's first task as Blast director/producer is to put together his creative team. During the next couple of months, he is going to be assembling a posy of choreographers, technical directors, parents, assistant directors, and more. The team will be made up of both adults and students, including the technical staff, parents, costume managers, choreographers, choral directors, and set designers.
"It is a difficult process to put together the creative team, but I am working on it," Albright said.
Though there were rumors of  Selman and Barillo returning to help with Blast this year, Selman has stated in an email that this is not true.
According to Principal Joan Benz, Selman cannot come back due to the structure of the MCPS school system's hiring process.
The contract states that when a position such as technical director for Blast is being offered for a school-sponsored production, the job is offered to three groups of people before it is offered to anyone else. First, CHS teachers are notified of the job opening. If school staff do not take the position, it is offered to all MCPS teachers. If the position remains unfilled, then it is offered to those with special services positions within the school.
If all three of these groups of people deny the position, then it can be offered to teachers from previous years. However, it cannot be offered to previous special services employees. Because Selman was a special services employee as the school's media services technician, he cannot return to work on Albright's creative team.
Barillo, on the other hand, can join Albright's team, if Albright chooses to offer him the job and if the job is rejected by the three groups of personnel before him.
"As I've said before, I would always welcome the opportunity to come back and create with such superior students," Barillo said. "The CHS talents are inspirational."
Selman's inability to return begs the question: who will head Blast's technical crew this year?
Because Blast 25 is still in the early stages of planning, there is no set answer to the question yet.
According to Benz, Selman's replacement, new CHS technical director Benjamin Schnapp, may be offered the position.
Schnapp is not sure what the future holds, however.
"I'm not sure if I'm going to be involved in Blast this year," Schnapp said.
No matter what, however, there is definitely going to be a Blast 25, according to Benz.
"Nobody needs to worry that Blast isn't going to happen," Benz said. "It's going to happen. It's going to be a big year."
There is still concern, however, for other CHS performances, such as the fall play, Auntie Mame, and the future of the theater department as a whole, following the Sept. 14 resignation of drama club teacher, sponsor and play director Lynda Scionti and the departure of Selman, the play's former technical director.
According to an unnamed source at the school, the positions for a technical director and drama teacher have not yet been filled. The school is currently interviewing potential candidates.
Though arts department head Paul Dermont and assistant principal John Taylor could not confirm or deny Scionti's resignation, Taylor did confirm that the play is no longer being directed by Scionti and will be directed by Hoover drama teacher Pamela Bilik.
"As far as the perspective of the actors, there's a huge amount of confusion," junior Jackie Spang said. "We're worried and excited because we have a new director coming in."
Auditions for Auntie Mame were held Sept. 10-11. Call-backs were held Sept. 12, and the official cast list was posted on the morning of Sept. 13. By that afternoon, senior Daijah Greene had helped Scionti clean out her room and exit the school. The cast is left with a bout of unanswered questions.
"A lot people sacrifice a lot to be part of the arts programs here," senior Hope Kean said. "I quit volleyball so I could do the school play, and now we don't know what's going to happen."
Though the play does have a director, they are still without a technical director or prop master.
"Right now, the tech crew has plans for the play but we can't build anything without a tech director," tech crew junior Aidan Gray said.
Kean added that the recent actions of the administration have given students in the theater department the impression that theather is low on the list of priorities for CHS.
Though the show is definitely in motion, the cast members still cannnot anticipate what will be different from last year.
"I'm happy we have a director, but we still need to get other things figured out before we can get the show on the road," senior Jimmy Schwartzman said.
According to Taylor, the CHS administration has not forgotten about the theater department.
"We will do whatever we have to do to make sure there's a show and a program," Taylor said.