Inspector Gadget finds self closer to class in the end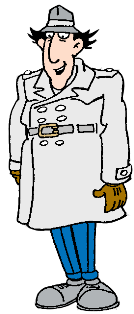 Many people who know I have a twin brother also know that he and I are very close. We are similar in many ways, have mutual friends and will be going voluntarily to the same school together for the next four years.
Although we've never hated one another, we've certainly not always been this close. Even now, we are still learning more about each other and finding ways to get along even better.
Because our attachment has developed over 18 long years, it's difficult to realize the time and effort that went into the bond we share, but I think it can be understood by looking at the relationship among the senior class. In more ways than one, my brother and I have gone through life together in the same way that our classmates have grown together over the years of high school.
My earliest memories with my brother are of us fighting over toys. We wanted the world and everything in it to ourselves, as does every kid, but were unjustly forced to share it with someone we had only really known for a few short months.  We had to eventually figure out a method of sharing, but this came with its fair share of clashes, tantrums and time-outs.
In the same way as my brother and I, our classmates at CHS had to become accustomed to close encounters with other students. We all began high school as strangers with the majority of the other students and were forced to see each other every day whether we wanted to or not. We found out whom we got along with after a grueling trial and error with those whom we could not. After a few minor altercations, we, for the most part developed an acceptance of our situation and those around us, and went through the day side-by-side.
Then began the perpetual competition. One story often told is of the rivalry between my brother and me in preschool. Our assignment was to draw, and we turned it into the fiercest line-drawing competition the school had ever seen. We would come home each day and boast that we had drawn more lines than the other and were therefore superior.
That's when our parents decided to have us separated into different classes. The competition was still alive and well; we just didn't talk about it. Our parents were satisfied in believing we had dropped the rivalry, but we both knew that it would never be over.
The competition we've all encountered at CHS, I dare say, is even worse. It's grown more throughout the years, ballooning during the months of college acceptances so much so that it carried into senior superlatives. Competition is the only natural way to deal with being in the running with your peers for almost everything with, but it is here that I must point out one of the most important things I've learned from being a twin: competition can only be healthy, and it can even be fun, when you realize it doesn't at all matter. There are no winners or losers in the grand scheme of things.
Only recently have I realized this. More specifically, it was when both my brother and I got into the same colleges and chose to go the same one. Despite 18 years of competition over toys, attention and line-drawing abilities, we are going to the same place and are happy about it.
A while ago I would have thought we'd have to be crazy to want to spend four more years living in the same city together, but when I was confronted with the choice of being separated, I simply wasn't ready to leave.
It seems to me, and it is my hope, that those in the senior class have come to share these same sentiments about each other. Some may claim to despise our class or complain that we could have been better, but it only took one slide show at senior banquet for people to realize how far we've come and to say, "I love all of you."
The senior class has grown together over the years in the same subtle way as my brother and I have. Just like that, we've gone from strangers to a class full of friends we don't want to leave. It just takes the prospect of leaving everyone you've met and grown up with to realize how much they truly mean. I feel that people are becoming closer with each successive senior event as we near the end of our high school experience. It is a shame that this only happens when we all have to say goodbye.
I ask that the underclassmen take advantage of the time they have left and make their class closer while they still have more years to enjoy it. Recognize now how lucky you are to have such a great class and take all the opportunities you can to make your experience even better and more cohesive.
As a final note to the senior class, it's been a pleasure sharing these four years with everyone, and I will miss you all. My only wish is that I had more time to get to know you each of you a little bit more.