Archer wants you to read this article, or else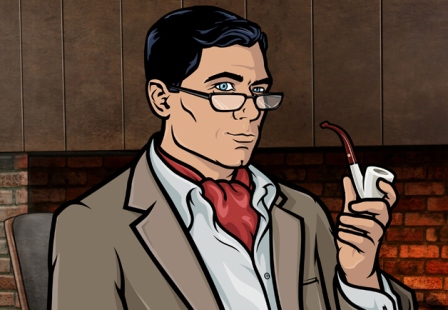 I'm a pretty sentimental guy when I have to be—but this is no time for feelings. I'd like my last words for the Churchill Observer to be hard-hitting, relevant and painfully accurate. We live in an affluent area, and there's nothing more Potomac than Potomac yoga moms. I sought to explore this phenomenon. You're welcome.
Before I begin, let me attempt to provide some explanation of why I'm doing this. I've got back issues, something called scoliosis—look it up—so my mom has always half-jokingly suggested I do yoga. This dream became a reality when I realized I needed something to write about for my senior section. So here it goes. Enjoy.
I began my preparation as any mom would: planning and deciding on an outfit that would make all the other betches jealous of my sweet bod. Yes, I wore my sister's yoga pants, and yes, I did wear a headband. And of course I took a pink yoga mat that was too short for my body. The pictures I took before I left would destroy whatever semblance of coolness I like to think I have. What I'm trying to say is, I looked ridiculous.
My ride to the class was just long enough for one listen through of Dragonforce's "Through the Fire and Flames," which I chose to listen to as a last-second assurance of my masculinity while I prepared myself for what I was confident would be the most effeminate thing I had done in recent memory.
I walked into the class after being laughed at by the janitor for my appearance. Surprisingly, the janitor was the only person from the entire experience who expressed disbelief at my getup. I'm really hoping that everyone there was just trying not to make me feel bad, otherwise, what kind of people are they getting at this place?
I walked into a dark, hot basement that was the yoga studio. A twenty-something hippie looking guy probably named Thad signed me in, and I proceeded to stuff my shoes into a cubby that was too small to fit them. It begins.
The class began with some stretches that were very similar to those all CHS men experience before gym ball, only with more music. The music, by the way, shifted back and forth between that which would play in transitional scenes of The Lion King and during the inevitable break-up montages of all romantic comedies.
The actual exercising was surprisingly difficult. While it definitely wasn't as hard as girls warn it will be, it wasn't as easy as I thought it would be. To add insult to injury, my instructor frequently asked us to "straighten our spines." Hmph. (Have you looked up what scoliosis is yet?)
Damn. Yoga pants feel good.
I, to my surprise, was not the only guy in my class. There was a—clearly struggling—man in the back of my class trying to impress the woman he came with. Next to me was a chubby, balding man with glasses who was probably the most into the session out of everyone in the room. Despite it being a "beginners' class," I found myself cheating off of him frequently to find out what each position meant. The instructor found it necessary to give every position a Sanskrit name.
The class began to slow down, we all said our "Namastes" and called it a night. The two high-school-aged girls there shared their last confused glances with me, and I headed out. I have to admit it, I felt really good, really relaxed, after it was over. The Potomac moms and I now have full understanding of one another. We are one.
I listened to John Mayer with pride on the way home. I decided, when I grow up, I want to be the stereotypical Potomac mom. Yoga was great.
That's just about it, but of course I'm going to squeeze in some life advice too. My three rules to live by: body paint makes everything better, there's always money in the banana stand and never underestimate the power of kind words. Goodbye Churchill, I really am going to miss you.