CHS bids farewell to retiring staff members: Guidance Counselor Mary Lou Galpin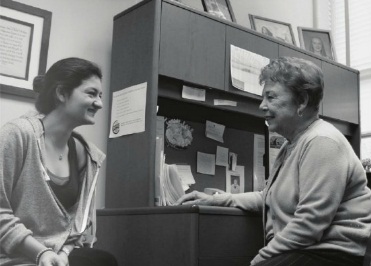 After working at CHS for 31 years as both an English teacher and a guidance counselor, Mary Lou Galpin will retire in June.
 According to Galpin, she first envisioned becoming a counselor when she was in high school. After seeing a film about abused children, she decided that being a high school counselor was a great way to help kids.
 Now that Galpin is retiring, she plans to move to Florida with her son.
 "My son just bought a house and a boat in Key West, and I'm going to go deep-sea fishing with him," Galpin said.
 Galpin's peers and students recognize both her accomplishments and ability.
 "I respect her greatly because I know she is a lifelong learner and her every intention had students at heart," Principal Joan Benz said.
 According to junior Sayeh Ebrahimian, Galpin gave great advice on what classes to take to manage stress, and she will be missed.
  Galpin will especially miss the personal relationships she had at the school.
 "I'll miss the friendships of the students, parents, counselors and faculty," Galpin said. "All of my memories of CHS are wonderful."