The show can't go on without the CHS tech crew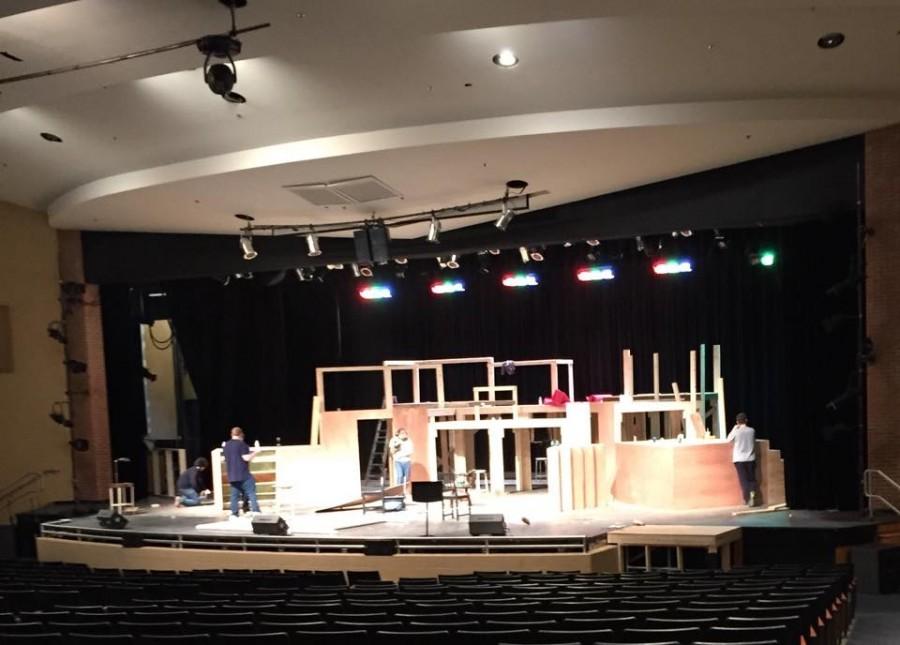 By Gil Jacobson, Senior Writer
April 29, 2015
Every school year, CHS puts on multiple productions ranging from Churchill's Got Talent to Blast.  In addition to the on-stage performers who spend hours after school rehearsing, each performance requires a significant amount of behind-the-scenes work in order to ensure that everything is ready for showtime.  That is where CHS' tech crew comes in.
"The tech crew at CHS works on everything from lighting and sound to carpentry, painting, costumes and special effects for all main stage productions," media services technician Ben Schnapp said.
Schnapp serves as the technical director for these productions which entails monitoring all student work behind-the-scenes, overseeing auditorium use, buying necessary materials and ensuring that all deadlines are met.
According to Schnapp, shows vary in how much preparation work they require.
"A show like Blast or the musical is much more complex and takes much more time to prepare than Churchill's Got Talent or a choral concert," Schapp said.  "Some shows require a set and others do not."
Planning is the first stage in the behind-the-scenes process.  To help with this, Schnapp has two student technical directors, seniors Nate Miller and Burke Niner, and the show's director who meet with him to learn about their ideal final product, required materials and the deadline for having the materials.
According to Miller, as student technical director, he is responsible for relaying communication between the tech crew and each show's director.
"I am told what is wanted, and then I make sure the rest of the tech crew gets it done right," Miller said.
According to Schnapp, the next step is for him and his appointed student technical directors to produce a design of the set and other show-related components, seek the show director's pre-approval and make any potential changes that the show's director feels are necessary.
"Once that is done, we bring our crew together to start with building the set, which takes place after school and sometimes into late night," Schnapp said.
According to Niner, there is no major organized leadership within the tech crew because of how well everyone in the group gets along with one another.
"Everyone can be in charge of projects and work together in small groups," Niner said.
Despite the importance of being an assistant technical director, Niner believes his role as one still provides him with the opportunity to enjoy himself and have fun with other crew members.  However, he also has to be the one who knows when it is time to get serious again in order to ensure they do not fall behind schedule.
Building time is another key component of the behind-the-scenes process leading up to performances.
According to Schnapp, building time for shows ranges from one to six weeks depending on how advanced the show is in terms of backstage work.  During building, an additional small group of students prepare the sound and lighting for the show.
"The goal is always to have the set finished and painted at least one week prior to the show," Schnapp said.
Then tech week, the week prior to when the performance begins, is underway.
"During this time we hold full rehearsals on stage with all technical aspects included," Schnapp said.
Miller considers the size and intensity of each show to be the primary factors which result in a different technical process for each show.
According to Miller, Blast is both the largest performance of the year and the one with the most buzz from the CHS community.
"All aspects of the set need to be correct along with the running of the show," Miller said.
Niner agrees that in the case of bigger performances like BLAST, the tech crew is facing more pressure to have everything ready to go by tech week.  Otherwise, Niner considers the tech crew to follow the same process for every CHS performance, meaning his and Miller's jobs tend not to change from show to show.