Superintendent Starr steps down after four years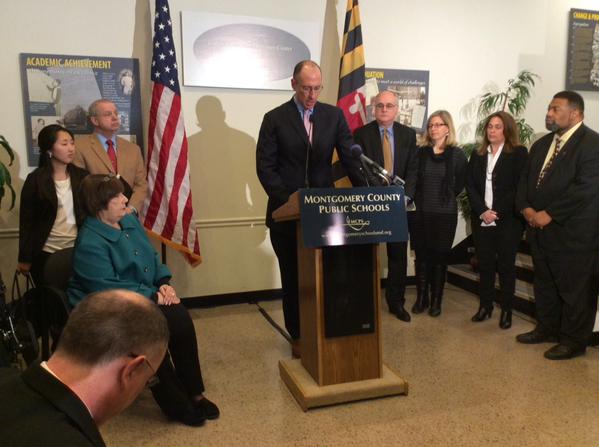 After weeks of speculation following Starr's possible contract renewal as superintendent for the next four years, he announced his resignation Feb. 3.
"It has been an honor to serve as the superintendent of MCPS," Starr said. "I thank the Board of Education for the opportunity to lead one of the nation's best school districts."
Starr took the position of MCPS Superintendent in July 2011, coming from a much smaller school district in Stamford, CT where he worked as superintendent. Over the past four years, he has served MCPS through changing policies and financial difficulties.
According to a Feb. 3 Montgomery County Education Association (MCEA) statement released, Starr led the system through the worst fiscal crisis since the Great Depression and worked to prevent budget cuts as much as possible.
Starr's numerous accomplishments included movements towards greater integration of technology into schools, steady support of AP and International Baccalaureate (IB) programs, increases in the percentage of students who are graduating on time and decreases in the gap between racial divisions, according to an open letter from former superintendent Starr
"Dr. Starr has been a strong proponent of educating the whole child, and caring for their social and emotional health," the MCEA statement said.
In order to renew his contract and position, Starr would have had to get approval from five out of the eight board members, which consists of seven adults and one student. If he won the majority, the Board would have renewed his contract March 1.
According to a Jan. 27 Washington Post article, four members had doubted Starr's abilities to develop and communicate a successful strategy for closing the achievement gap that separates white and minority students.
Though Starr made motions to renew his contract and pursue another term, the final verdict was made clear Feb. 3.
According to a message from BOE President Patricia O'Neill, the BOE and Starr reached a mutual agreement that the BOE approved unanimously.
Though the BOE has not commented on Starr's future, he is certain he will continue to play a role in education.
"I look forward to continuing my work in public education and ensuring all children have the opportunity to receive a world-class education that prepares them to thrive in their future," Starr said in his farewell letter of thanks Feb. 3.
Despite the sudden change of direction, Principal Joan Benz believes that MCPS will transition into the next administration smoothly.
"MCPS is a large county with many challenges, but offers a big salary and wonderful opportunities," Benz said.
While the BOE conducts a national search for possible candidates, Larry Bowers, MCPS' current Chief Operating Officer, will serve as superintendent until July 1.
According to an update from Patricia O'Neill, Bowers is capable of leading as a 37-year MCPS veteran who understands MCPS' culture and will work to make sure that the school system continues to function smoothly until a new superintendent is chosen.
The BOE will keep the MCPS community informed about their search for a new superintendent and how community members can participate in the process.