Students, staff 'surprised' by exam schedule change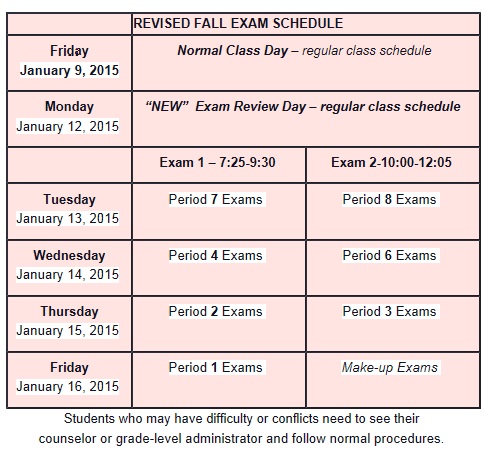 As a result of the Jan. 6 snow day, Principal Joan Benz made a decision to push exams back one day.  Instead of exams starting Monday, Jan. 12, they will now start Tuesday, Jan. 13.
According to the MCPS Public Information Office, Marty Creel, the Director of the Department of Curriculum and Instruction, sent an email out to principals offering each high school  the individual choice to move exams back one day or keep them on the same schedule. Students and staff were notified of Benz's decision to move exams during first period Wednesday, Jan 7.
According to assistant principal John Taylor, administration talked about the decision that morning with MCPS central office, and Benz made an executive decision.
Many CHS students and staff were surprised by the decision because of the changes it will force regarding exams.
"In my 14 years at CHS, I don't recall an instance when exams have been moved other than when schools have been closed, either on a review day or exam day," social studies teacher and Elected Faculty Representative (EFR) Adam Field said.  "My guess is that the decision was made to enable student success on any remaining assessments for the second quarter and on any finals.  I am disappointed that the EFRs and department resource teachers were not consulted.  As EFR, I would have appreciated having the faculty's input heard."
According to Taylor, CHS administrators were told they were not the only school moving exams.
However, the Observer spoke to a main office representative from each of the 25 other MCPS high schools, all of whom stated their exams were set to start on Monday, January 12.
"In the past we had guidance from the central office," Taylor said. "We were working in absence of that.  Dr. Benz announced it so everyone could know as soon as possible and they could adjust."
Some students' plans to travel over the exam break have also been affected.
"I have to take my math exam a day early because I was supposed to go to California to visit my great aunt who is going through chemo," sophomore Genevieve Huntington said. "This is inconvenient for a lot of people."
However, other students view the change as beneficial.
"I actually kind of like the change," said a male sophomore who asked that his name not be used. "It gives me more time to prepare, although I am a little annoyed that the change was so sudden and nobody was consulted."
The possibility of inclement weather during exam week has led students and staff to wonder what would happen if MCPS had another snow day.  At the staff's request, a contingency plan was communicated via email to staff Friday, Jan. 9, three days after the original announcement.
According to Taylor, for every snow day exams will be pushed back each day. If there is a two hour delay exams will start at 9:25 and finish at 2:10. The contingency plan is scheduled to be posted on the CHS website.
Another staff concern is whether the staff professional day will be affected.
According to Taylor, teachers will be guaranteed their full professional day for grading and submitting grades.