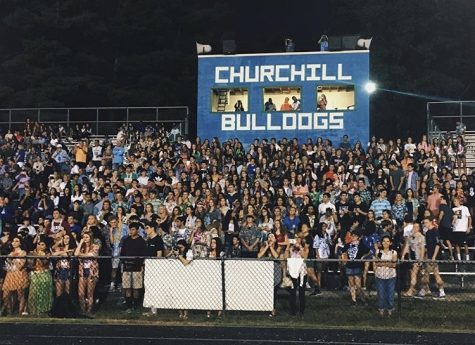 By Julia Lescht and Jenna Greenzaid, Online Editor-in-Chief, Editor-in-Chief

December 12, 2018
CHS students start each school year with the same jokes about their usual lack of school spirit. This year, however, the change in school spirit is no joke. Since the beginning of her term, Principal Brandice Heckert has made it a point to foster a welcoming, spirited and enthusiastic atmosphere....
By Sophie Liss, Editor-in-Chief

June 8, 2018
The MCPS Board of Education appointed Ms. Brandice Heckert to be the new principal of CHS May 21. Heckert will replace principal Joan Benz July 1. Heckert was the assistant principal at Bethesda Chevy Chase (B-CC) High School before being appointed principal of CHS. She was also previously a math teach...
Winston Churchill High School

63

Mar 4 / Girls Basketball

Winston Churchill High School

72

Mar 2 / Girls Basketball

Winston Churchill High School

60

Feb 21 / Girls Basketball

Winston Churchill High School

65

Feb 21 / Boys Basketball

Winston Churchill High School

73

Feb 7 / Boys Basketball

Winston Churchill High School

55

Jan 24 / Boys Basketball

Winston Churchill High School

53

Jan 24 / Girls Basketball

Winston Churchill High School

62

Jan 15 / Boys Basketball

Winston Churchill High School

72

Jan 15 / Girls Basketball

Winston Churchill High School

64

Jan 10 / Boys Basketball
The Churchill Observer- May 2018