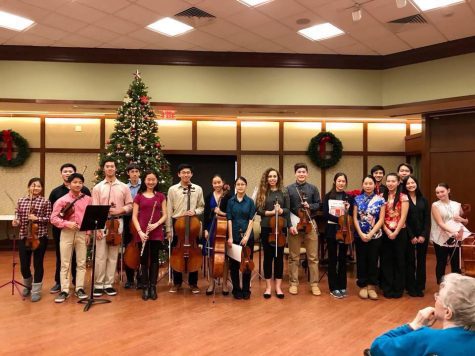 By Sophie Liss, Sports Editor

February 7, 2018
CHS is home to many talented music groups, ranging from choral groups such as Show-Stoppers and Voices of a Generation to the skillful band and orchestra, but the CHS Visiting Musicians add a whole new level of variety to the music CHS has to offer. The CHS Visiting Musicians club travels to different senior citi...
By Maddy Jacobs, Fact Checker

March 1, 2010
Ah, YouTube. A place of wonder and procrastination. A place where you go to laugh at crazy cat antics and scoff at Kanye West's disgrace of Taylor Swift. A place where recently, musically talented CHS students have begun to gather. Junior Nikki Fraser is a talented vocalist and musician who posts...
Friday, January 3

Boys Basketball

Winston Churchill High School 72 - Einstein 35

Wednesday, December 18

Girls Basketball

Winston Churchill High School 67 - Kennedy 14

Friday, December 13

Boys Basketball

Winston Churchill High School 71 - Springbrook 61

Friday, December 13

Girls Basketball

Winston Churchill High School 74 - Springbrook 12

Tuesday, December 10

Girls Basketball

Winston Churchill High School 59 - Urbana 26

Tuesday, December 10

Boys Basketball

Winston Churchill High School 69 - Urbana 60

Friday, December 6

Boys Basketball

Winston Churchill High School 61 - Paint Branch 63

Friday, December 6

Girls Basketball

Winston Churchill High School 66 - Paint Branch 64

Wednesday, November 13

Girls Varsity Volleyball

Winston Churchill High School 1 - Arundel 3

Saturday, November 2

Girls Varsity Soccer

Winston Churchill High School 2 - Quince Orchard 1

Friday, October 25

Varsity Girls Volleyballl

Winston Churchill High School 3 - BHS 1

Friday, October 25

Varsity Boys Football

Winston Churchill High School 8 - BCC 14
The Churchill Observer- May 2018