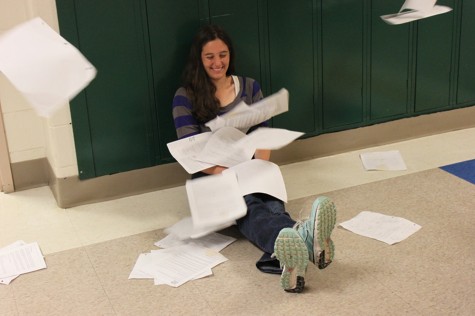 By Dana Harris, Online Opinions Editor

June 4, 2012
Here we go, round two.  The grueling exam week is about to begin in t-minus (1) day.  All-nighters, study sessions with friends and trying to avoid procrastination on Facebook.  All of the vicious events school throws at us students.  So, to help you bear through the exams, I am going to give you...
By By Ben Hollander, Staff Columnist

March 2, 2011
Exam week is by far the most underrated week of school in the entire school year. Between getting to sleep in, leaving early, and not even going to school once or twice during the week, plus the likelihood of snow days, I honestly can't think of a better week in the academic year. This year, however,...
Winston Churchill High School

63

Mar 4 / Girls Basketball

Winston Churchill High School

72

Mar 2 / Girls Basketball

Winston Churchill High School

60

Feb 21 / Girls Basketball

Winston Churchill High School

65

Feb 21 / Boys Basketball

Winston Churchill High School

73

Feb 7 / Boys Basketball

Winston Churchill High School

55

Jan 24 / Boys Basketball

Winston Churchill High School

53

Jan 24 / Girls Basketball

Winston Churchill High School

62

Jan 15 / Boys Basketball

Winston Churchill High School

72

Jan 15 / Girls Basketball

Winston Churchill High School

64

Jan 10 / Boys Basketball
The Churchill Observer- May 2018