Girls' tennis is serving up big wins this season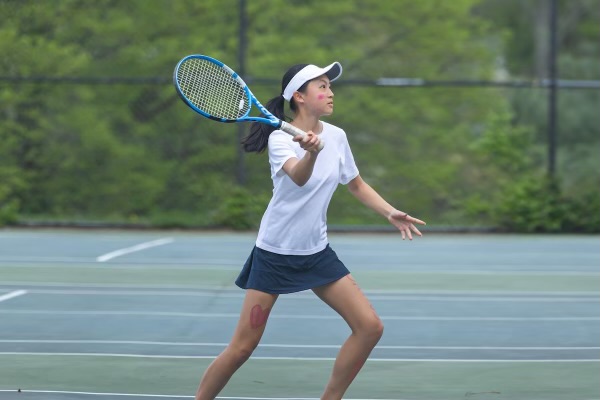 The WCHS Girls' Varsity Tennis team is coming off a county championship win from the 2022 season and currently has a 5-2 record(will change before publication). This was the first year for the Class of 2026 to try out for various sports. Many skilled WCHS athletes also participate in their sports outside of school for enjoyment and to further improve. The tennis season started at the beginning of March and will conclude in May, meaning the season is coming to an end within the next few weeks.
Freshman Allison Chan is on the WCHS Girls' Varsity Tennis team and has been playing tennis since she was about 8 years old. She has been playing regularly at a tennis center with other kids for the past three years and still plays on weekends outside of school.
"During the first day of tryouts, I was really nervous since there were lots of really skilled people there," Chan said. "Tryouts were very long so within a few days I got more comfortable playing in the new environment."
Sophomore Daniela Corona Shturman is on the WCHSGirls' Varsity Tennis team and has been playing tennis for about three years. She first got into tennis through her mom who loves the sport. Corona Shturman plays four days a week at the Junior Tennis Championships Center (JTCC).
"Inside-of-school tennis is based on using the skills you already have from playing outside of school," Corona Shturman said. "Tennis outside of school at JTCC, for me, is really difficult. That's when I train the hardest and then use those skills to do better for the WCHS team. That's why I prefer playing outside of school because it's more skill-based."
Joining a school sports team provides a stronger sense of community as well as providing a little friendly competition and encouragement. When joining a sports team, athletes are surrounded by familiar people and people who have similar interests which makes it fun and easy for teams to bond.
"My favorite part of being on the WCHS team is definitely the team bonding," Chan said. "I think it's a really fun experience to have spirit days and team breakfasts because it helps us become closer to each other."
The tryout process can be long and stressful for student-athletes whether it's their first year joining or for returning student-athletes. Despite the stress that tryouts can cause, many student-athletes end up having great opportunities from both coaches and teammates. In addition, lots of friends and memories can be made.
"Tryouts are a little long but fun and I'm glad that the coach gives a lot of people opportunities," Corona Shturman said. "Also, everyone is lovely and we all have so much fun, I've made lots of good friends from tennis."
Tennis and other sports create positive environments and lots of support and encouragement from teammates and coaches. The WCHS Girls Varsity Tennis team has created a strong sense of community for athletes such as Chan and Corona Shturman which really shows in the team's overall success.
"I enjoy playing tennis because of the energy put into it. I especially like playing doubles over singles because there's another person on the court with me to support and energize me, " Chan said. "I love playing because when we're on the court it's always very energetic and lively."