Five-peat team glides into another successful season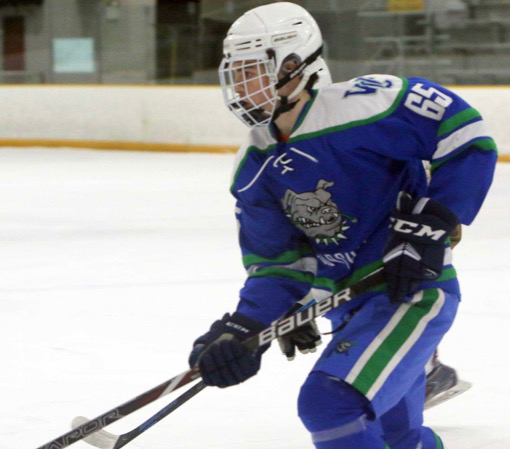 By Kathy Hu, Online Editor
January 30, 2020
WCHS ice hockey has had a longstanding tradition of success, shown by the five straight state championships the team has won. The program has won eight state championships total, earning them the title of the most dominant MCPS hockey team.
"The history of WCHS ice hockey motivates us to win," senior Thomas Haass said. "We always want to uphold the success of all the teams that came before us."
They are the most successful varsity hockey team in the MSHL (Maryland Student Hockey League), the league they play in. The team has nine talented seniors, and are led by captains Zach Brodsky and Rigel Goodrich. The captains are chosen by the coaches and are responsible for setting a good example for their teammates both on and off the ice. 
"As captain, there is definitely pressure to constantly play well and lead by example," senior captain Zach Brodsky said.
The team practices together for an hour twice a week. A typical practice consists of sprints, laps and scrimmages. Behind every successful practice and game are two passionate coaches, Coach Ray Mckenzie and Coach Sam Mrvos. The coaches have helped build a program that has been consistently successful and will continue to be successful for years to come. 
"I think the main contributor to the success of our team is the coaching staff," Haass said. "They help keep our heads in the right direction and always push us to be the best we can be."
The most exciting time of the year is just around the corner; hockey playoffs begin in February and the team hopes to make yet another deep playoff run this year. 
"I am most excited for playoffs," Brodsky said. "The level of competition picks up and intensity of the games pick up. These games are why we play hockey."
Of course, with such a rich tradition of success in the program, the team wants nothing less than to continue this tradition of winning and get the opportunity to call themselves state champions once again. 
"Our goal for the season is to go to the States again and win," Haass said. "I'm really excited to see how this season plays out and I'm really excited for playoffs to see all of our hard work pay off. No matter what happens we want to stick together as a team and support each other, regardless of the outcome of the season."
The team plays in a tough, 18 game regular season, including games against both public and private schools. Some of their closest games have been against Wootton and Bethesda Chevy-Chase High School, with WCHS coming out on top against both schools. 
There is no one factor that is the reason for their success over the years. The success of their team can be attributed to a variety of different factors, both within each athlete and within the program itself. 
"The main contributor to the success of the team is our work ethic and coaching," Brodsky said. "These two factors allow us to play tight games with teams better than us and win our league games."