Students ride their way to equestrian success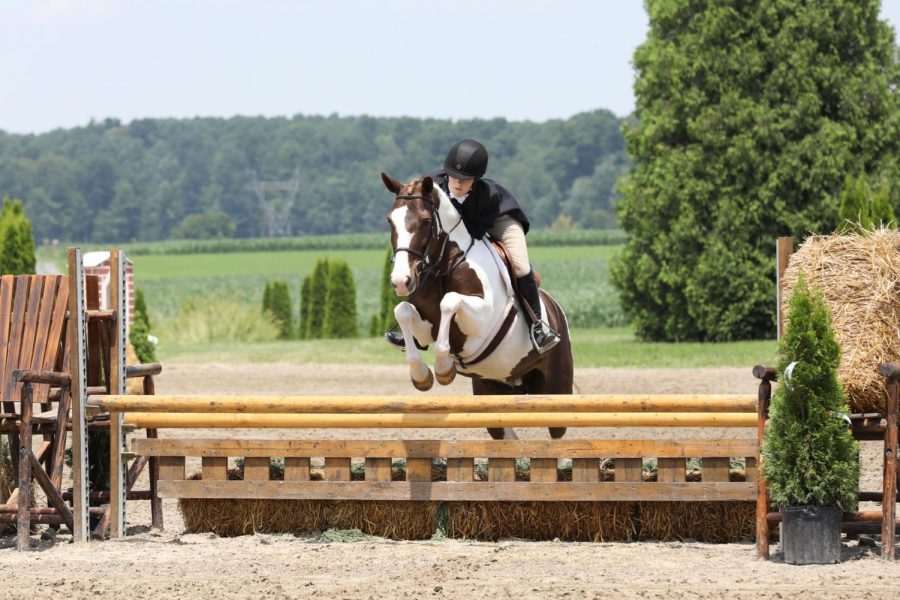 By Benjamin Pham, Advertising and Subscriptions Manager
November 20, 2018
When people are asked to name a sport, they usually mention football, soccer, basketball or baseball; they are not wrong. However, what people forget to mention is horseback riding.
For senior Courtney Stefan and junior Maddie Kupinsky, horseback riding is something they know like the back of their hand.
"I chose to ride because I love spending time with my horse," Stefan said. "The relationship with my horse is very important to me."
Stefan considers her horse one of her best friends and something that helps her accomplish her dreams. Stefan recently obtained a seven-year-old Bay Warmblood named Gizmo after selling her horse Lakota, a 10-year-old Pinto Chincoteague, that she leased for two years.
"She keeps me safe when I am terrified before entering the show-ring, a moment where I could be frightened and mess up at the beginning of the competition," Stefan said.
Stefan's journey to grow a new friendship with her horse came with challenges she had to overcome in order to be successful in competitions.
"When I learned to ride, I had trouble gaining confidence to trust myself and my horse, which sometimes led to me falling off my horse," Stefan said.
Despite her struggles while learning, Stefan made observations that would assist her in understanding riding and improving her own performance.
"When I began to ride a horse, I realized that everything is unexpected," Stefan said. "You never know how your horse and the horses around you will act."
After a competition, even if Stefan performed very well, she takes the time to reflect upon what she did well and what she could have done better for future competitions.
"Some regrets I have are usually about looking further ahead after I completed a jump and not allowing enough space for my horse and me to turn to jump over an obstacle," Stefan said.
On the other hand, Stefan has competitions where she was proud and satisfied with her performance and how she executed the movements on her horse in order to successfully clear the obstacles.
"The best competition I have had was at Pennsylvania State University this past summer," Stefan said. "I conquered all of my nerves and competed against some of the toughest competitors, and I came out on top."
Unlike other sports, the team is only the rider and his or her horse. Stefan has learned to trust her horse and acknowledges that she could not have gained the skills she obtained with horseback riding with another sport.
"I have gained an enormous amount of trust from my horse," Stefan said. "The mental strength I gained comes from trusting my life on an animal to do exactly what I tell it to do every day."
Junior Maddie Kupinsky began horseback riding with a similar mentality as Stefan. Kupinsky loves animals and riding a horse seemed interesting to her. Kupinsky has ridden several breeds of horses.
"I had a connection with animals and this combination could not go wrong," Kupinsky said. "My relationship with the horse became mutual, and we had to work together as a team."
When Kapinsky began to ride, she had difficulties with the fear of falling off the horse. If she fell off the horse, she observed that she would have trouble getting back on the saddle.
"When I am sitting on the horse, the ground is further down than it seems," Kupinsky said. "It took lots of courage to learn how to safely ride a horse without getting injured."
Another obstacle Kupinsky had to overcome was dealing with younger horses, who often misbehave rather than listen to her commands. In addition, riding horses requires the riders to be cautious and show who is in charge.
"I had to deal with horse's temperament, especially the younger horses, who were just adapting to having someone ride them and compete with them," Kupinsky said. "I have to show the horse that it is not okay when it does not follow my lead."
Kupinsky sees that in order to be successful in horseback riding, there needs to be a balance in teamwork between the rider and his or her horse. In addition, the rider has to use their entire body and use the saddle to control their legs.
"Unlike other sports, I have to use every part of my body and use my seat to control my legs," Kupinsky said. "Basically, everything connects together when you ride a horse."
As for students who wish to try horseback riding as a sport, Kupinsky recommends not going out alone and going to a reputable location, such as Potomac Horse Center, with good stables and helpful instructors to have a proper learning experience.