CHS teachers go the distance with marathons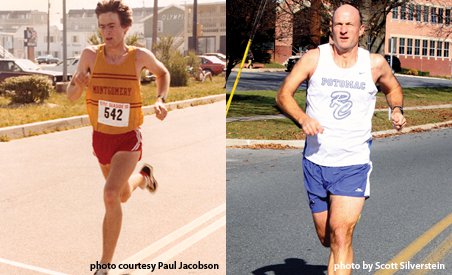 Life is not a sprint, it's a marathon. CHS teachers have followed this saying to the finish line of a range of races, from 5Ks to marathons.
To fit training into her schedule, Brown tries to run as soon as she gets home from school, four days a week. Her training on the weekend varies depending on weather and schedule.
"[On the weekend] I and whoever I'm running with wake up pretty early," Brown said. "Usually I'm running with somebody and then it's like social hour. Instead of going to a restaurant or going shopping, we're running and chatting, so it's the same [idea], but we're just exercising while we do it."
AP Psychology and AP U.S. History teacher Amanda Marshall has run with Brown in the past. Marshall, who has completed three full marathons, has also trained with fellow social studies teacher Nicole Van Tassell. Most recently she ran the the Marine Corps Marathon in Oct.
"The half-marathon is my favorite distance, but I enjoy the mental and physical challenge of completing the full," Marshall said. "Crossing the finish line [of a race] with people lining the Life is not a sprint, it's a marathon. CHS teachers have followed this saying to the finish line of a range of races, from 5Ks to marathons.
These teachers see various benefits to running and over time have learned to fit training in with teaching and familial duties.
"[You can go running] anywhere. Anytime. You can go in the rain, you can go in the shine, you can go in the cold, you can go in the heat. You just need a pair of shoes," AP European and Modern World History teacher Erin Brown said. "I found that when I would run, I would burn off steam, my mind would be cleared and I would be less stressed."
Route cheering is an incomparable experience. [When I finish] I get a burst of energy and cannot stop smiling."
Brown is planning to run the Cherry Blossom Ten Miler in April and the Frederick Half Marathon again in May.
"When you finish a race it's not just that moment, it's the accumulation of all the time that you put in to prepare versus whatever else you could've been doing with that time," Brown said. "All of that hard work and dedication has paid off, and it teaches you that when you really set your mind to something and you make a commitment, you can do so many things."
"Mrs. Marshall and I frequently sign up for races because it's that carrot that just keeps dangling [in front of us]. We like to have a carrot out there to motivate us when sometimes we may be lacking the motivation," Brown said. "You almost always feel better once you've actually done [the training].
Marshall's training schedule consists of runs five days a week, a rest day and a day of cross-training.
"During the week I get up at four a.m. and run on my treadmill or workout in my basement," Marshall said. "On the weekends, I run as early as I can to minimize the time I am away. My husband is super supportive, so he encourages me to get out the door on days when I really don't feel like lacing up my shoes."
To anyone who wants to start running marathons, Marshall advises to start small and make realistic goals. She recommends finding a training plan that fits with your schedule and doing the best you can.
"I am running the Coastal Delaware Marathon at the end of Apr.," Marshall said. "I am hoping to get a qualifying time to earn entry into the 2019 Boston Marathon."
Global Issues and AP Government teacher Paul Jacobson has run the Boston Marathon, among many other races.
"It was a year after the bombings (2014), and everyone was so appreciative, so it was a great atmosphere," Jacobson said. "I wanted to do well for my age group. I was 50; it's a tough course and I faded a bit."
According to Jacobson, he's only done a few marathons, despite being a long-time runner since high school because he believes "if you're gonna do all that training, it's got to be a serious endeavor."
Jacobson is currently a part of the Montgomery County Road Runners club (MCRRC) and a member of their racing team. According to the MCRRC's website, their mission is to promote and encourage running by offering programs for all types of runners.
For the last year, however, Jacobson hasn't been able to run due to a hip injury. Despite not being able to run, he still acts as the head CHS cross country and track coach.
"[Pre-injury] I ran with the kids. Now I have a stationary bike I use outside while they're running," Jacobson said. "It was a great thing when I became a coach 12 years ago, I could do my running and work at the same time, combining two passions I really [enjoy]."
Although he's been unable to run, Jacobson has gained insight that will help him be a better coach.
"Not running has given me a different perspective on running; it has helped me focus more [on the kids] because I'm not worried about my own running," Jacobson said. I see both sides [to the sport] and I know what it's like, what they're going through. If I can't run, I can help these kids get better, so it's living vicariously through them."
"Like Boston, any marathon, you're so wiped out [afterwards] you can barely walk and the next couple of days you're so sore, but you get this great feeling of accomplishment," Jacobson said."
Ceramics and AP Art History teacher Paul Dermont has a long time passion for running similar to Jacobson's. Dermont has been running since middle school, and ran his first marathon in 2014.
For his first marathon, Dermont ran the Paris Marathon because he figured that "there's enough aesthetic with the stunning buildings and monuments to keep you interested even if you're ready to collapse."
According to Dermont, he runs because it helps keep him healthy and is a stress reliever. He also enjoys being outdoors. For Dermont, marathons are a great goal to work towards, and they even allow him to travel.
"When you're running a marathon, there are about 40,000 other people with you so it's almost like a celebration, like Mardi Gras," Dermont said. "During the Paris marathon, people offer you glasses of wine while you run and bands are playing."
Dermont re-ran the Paris marathon in 2016, but does not plan to run in a third time.
"I feel fantastic [when I finish a race] because for the Paris Marathon, training during the winter is terrible," Dermont said. "I'm going to keep running marathons because it's a great way to see different cities throughout the world, so maybe Miami will be next and then training will be in the fall."
Running is a popular hobby around the world and at CHS because it is accessible to everyone. No matter the circumstances, everyone can run in order to relieve stress and improve both physical and mental health.
"[You can go running] anywhere. Anytime. You can go in the rain, you can go in the shine, you can go in the cold, you can go in the heat. You just need a pair of shoes," Brown said.