Athlete of the Month: December 2017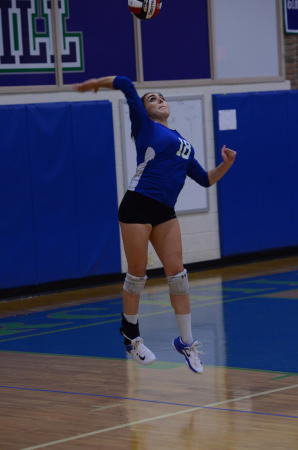 Nine years ago, senior Nadia Hedayat hit the court for the very first time. Today, she is the captain of CHS volleyball and a key contributor to the team's run to the regional final this season.
Hedayat has improved each year, culminating this season when she helped lead the team in kills (any attack that lands for a point), as well as being named second team all-county.
"Nadia has worked hard to be an all around player," head coach Cindy Hillard said. "She has always been a leader, but as she has grown in skill, she has better learned how and when to lead."
Despite her love and passion for the game and competition now, Hedayat did not originally want to play volleyball. It took the influence of her parents to inspire her to play the sport.
"My mom actually forced me to go to a summer camp at American [at age nine] University that I really did not want to go to," Hedayat said. "But after a week I fell in love with the sport and it has changed my life ever since."
Senior Carolyn Youstra has been teammates with Hedayat for six years and has admired her talent and ability to lead since day one.
"She leads both on and off the court in everything she does," Youstra said. "She has played volleyball for more years than anyone else on the team and you can tell. She has always been a great player as well as extremely smart."
Hedayat is not only a leader on the court, but has shown her initiative through team activities and fundraisers. She played a key role in raising money for the team's "Dig Pink" fundraiser which raised funds to support breast cancer awareness.
According to the CHS athletic department's website, Hedayat and the team helped raise over $3,000 over the course of the fundraiser.
Last season, the team finished with 9-1 and advanced to the MCPS regional final before losing to Northwest HS. This season, Hedayat and the team had a tough road ahead of them in their battle to make it back to the regional final, as many key contributors from the team graduated after last season. However, the team fought for a strong 8-2 record and was able to make another appearance in the regional final before falling to Northwest HS again with a score of 3-1. Hedayat was a huge part this success through both her play and her leadership.
"Nadia is the first one to set up the courts and the last one to leave," Hillard said. "She helps me work with new players and helps lead the veterans. This year we needed her more as a hitter, so I had her play opposite (an all around hitting position). She was our kill leader and ace leader (best hitter and server) for the season. She still helped out setting some this year because she is a great setter, but this year, her hitting power really showed through when we needed it."