CHS Indoor Track Runners Qualify for State Championship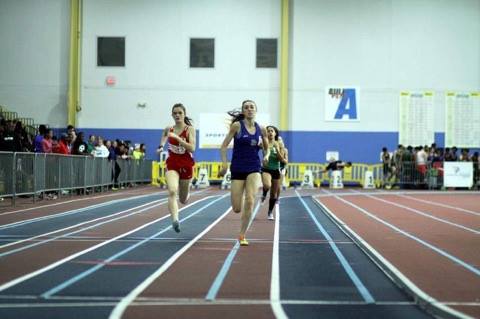 On Feb. 9, the CHS indoor track team competed in regionals for a chance to qualify for state championships, which will take place Feb. 21.
An astonishing 11 CHS indoor track athletes made it to the state championship for their respective events, including both the boys and girls 4x800m relays.
"I'm looking forward to the competition, and hopefully running a personal best in the 55m hurdles," senior Lucy Lee said. "I placed seventh last year at states and I'm hoping to place even better this year."
In order to qualify for states, competitors do not need to win their event, but they must place within the top four. Many runners on the team feel that even if they did not win their event in regionals, they can still improve for states.
"I got fourth at regionals, but I ran a season best time of 8.91 so I'm not upset," Lee said. "I know I'm capable of more and I'm excited to see what I can do at states."
Even without winning the state championship, qualifying for it is an honor. Prior to states, athletes typically do not change a lot of their training techniques.
"Qualifying was so exciting and it made me so happy that all my training was paying off this season," senior Vicente Rudolph said. "Training won't be changing much except for a few key workouts that are reserved for states runners that I have never done before."
After a long and difficult season of training outside in the cold, making it to states makes the hard work worth it.
"The state meet is the culmination of all the hard work that the kids put in," sprinting and hurdling coach David Warren said.  "It's fun to see them achieve and succeed."
Whether it is for the first time, or the athletes have gone to states before, it is an exciting and rewarding experience.
"My advice to someone trying to make states would be to put in the extra time, work, and effort because it will definitely pay off in the long run," sophomore Hannah Bush said. "This is my first time going to indoor track states, since last year I did swim and dive, so it will be a new experience for me."
During state championships, athletes will compete against the top qualifiers from the other regions of Maryland.
"I'm looking forward to be able to drop more time in my individual events as well competing against other runners that weren't in our region," senior Gwen Asbury said.