CHS Poms Perform at Halftime Show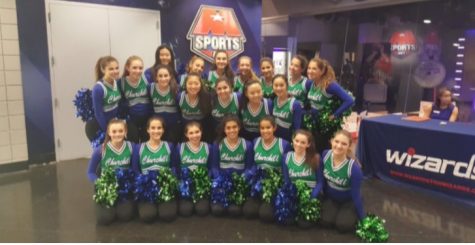 CHS poms had the opportunity to perform a poms routine during the the Wizards Halftime Show on Friday, January 6.
CHS was one of the schools among several in the DMV area who performed during the halftime game.
"Our coach wanted to give us the experience of performing in front of large crowds of people so we signed up," sophomore and poms member Hannah Weitzman said.
Other school teams that performed during the Wizards halftime show Friday include Walter Johnson Cheer and schools all over the area.
According to Weitzman, CHS Poms showed up to the Verizon two hours early so they could practice the routine with all the other teams.
"The performance was so much fun because it's the biggest audience our team has ever danced for, and there was lots of positive energy," senior captain Tatiana Teixeria said. "It's crazy to think we've danced on a court where NBA and WNBA teams play: the atmosphere in itself really pumped our team up which made the performance even better."
The team had the opportunity to perform in front of star athletes on both the Minnesota Timberwolves and the Washington Wizards. They performed at the Verizon Center, which has the capacity of over 18 thousand people.
"The coolest part was being able to see what it was like to stand underneath the court," Weitzman said. "[We got to] go underneath the where all the players and cheerleaders were before they went on to the court."