Athlete of the Month – September 2016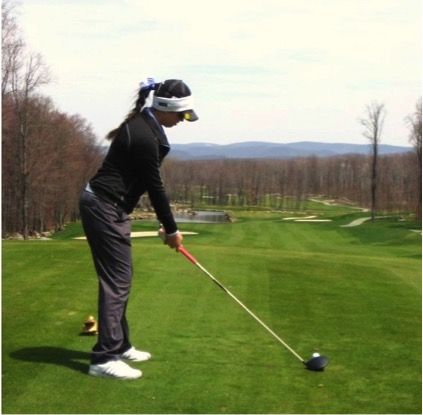 Lena Capoccia's natural talent and strong mentality set her apart from the other players on the golf course, but it's her hard work that will help her keep the distance.
Capoccia started playing golf at age four at her home course, TPC Potomac at Avenel farm. Along with her success on the CHS team,Capoccia also won four individual tournaments this season in other tours. While playing for CHS last season, she recorded 144 strokes to finish second among girls in Maryland. There are very few players that can match her talent.
"She's a good barometer for other players to measure themselves against," golf coach Robert Tarzy said.
The team as a whole is coming off a record-breaking season. Last year, the undefeated Bulldogs won the state championship, with a score of 572 strokes, beating the record by 24 strokes and second place finisher Walter Johnson by 26.
Capoccia's 144 stroke performance was a big part of that, as she had the third best score on the team. Her 75 stroke outing in Districts (against other MCPS teams) was also an essential component in allowing CHS to qualify for States. The team has lost talented seniors including Adam Gray and Luke Schaap. If they are going to repeat their success this year, younger players will need to step up.
"We need to just continue to play well,"Capoccia said. "We have players that have been there before. Experience is key."
This year however, the team is making a big change. All-Met Coach of the Year Aaron Vactor is no longer the head coach of the Bulldogs. This year, new coach Robert Tarzy looking to make his mark with the talented golf team, with returning players like Capoccia playing a big part in helping him settle in.
"Having Lena on the team helps the team as a whole," Tarzy said. "It can be intimidating to play in a co-ed match, but having a player like Lena to lean on helps relieve some of the stress that goes along with co-ed play. Knowing that Lena will likely give the team a lead makes it much easier."
Golf is a mental game. Even professional golfers get rattled when a shot isn't perfect or a putt just misses the hole. The players who get far are the ones that can stay calm no matter what the situation is.
"Lena has a really strong mental game," Tarzy said. "She is able to compartmentalize her thoughts and block out all of the real life distractions when she is playing."
Even talented players can improve, including Capoccia, who is working hard to be the best golfer she can be. While she feels like her ball striking and distance putting are great, she'd like to improve on her all around short game over the course this season.
Another reason for Capoccia's success is practice. During the summer she practices from seven in the morning until six in the evening every day. Whether it be going out and playing or just working on the range, her goal was to be golfing every day. It is that mentality that correlates directly with her success.
"She puts in the time on her own or with her swing coach to fine tune her game outside of practice," Tarzy said. "There is no secret to being a good golfer, or to be good at anything else. You have to put in the work… and Lena does."