Football Brings in New Approaches On and Off the Field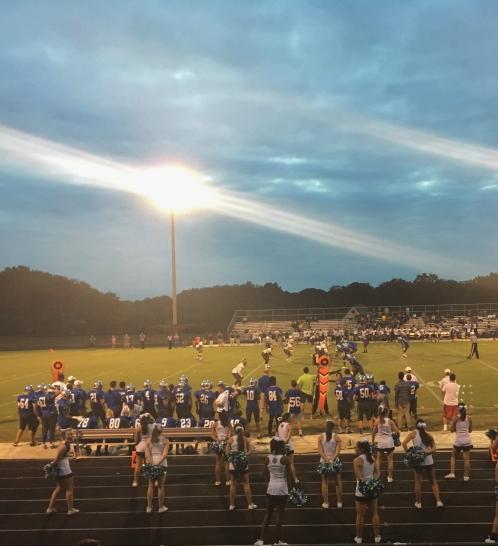 The CHS varsity football team is coming into this season with new strategies for improvement, following a disappointing 2015 season.
The team has undergone several changes both physically and mentally in order to boost their skill level and thus enhance their game.
"This year we have really stepped up the intensity of practices and workouts," senior Jack Wagman said. "We've also been able to put in a lot more of our playbook and we have changed our offense substantially."
Practice makes perfect, and the varsity football team strives to achieve perfection through intense practices that average two or two and a half hours each day.
According to sophomore captain Michael Janis, head coach Albert Song tells the team "practice makes permanent," so the team makes sure to play to the best of their ability and to push themselves each practice.
Players view last year, their first year with coach Song, as a sort of trial period. Now that they are better acquainted and more comfortable with both Song and each other, they view this season as their opportunity to produce better results.
"Last year was a down year, but we were still learning," senior captain Joel Goldstein said. "Now that we have a strong core around us, we're ready to go out and execute our gameplan."
One new addition to the team is starting quarterback, Janis. Although Janis is one of few underclassmen on the team, it is not evident in his or his teammates' attitude.
"I hope to lead the team by example and by always being there for my teammates," Janis said. "We know we must practice how we want to play, so our practices have a high tempo and require lots of focus."
According to Song, the team has "drastically changed" the way they practice, including holding combined practices with the JV team. Additionally, the team has developed a new tougher, "mental character" that is required for such a rough sport.
"I'm expecting for us to shock a lot of people at CHS and around the county," Goldstein said.
Although their record thus far has been 0-3 (as of 9/16), there are more games to come.
"To play our best, we continually push each other to get better at practice each day and that brings out the best in all of us," Wagman said.
By pushing and supporting each other, the team creates a unified foundation, that not only encourages them to work hard, but increases their enthusiasm and eagerness to play.
"We expect to go out and play hard every game and do the best that we can," Janis said. "That's all we can ask of ourselves and through this, we can expect to be a very competitive team on the field every game."