Students Doubt Success of New Arena Football Team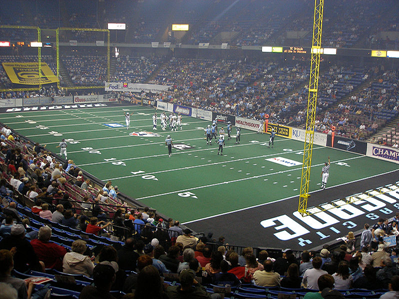 Last month, Monumental Sports and Entertainment announced its acquisition of an Arena Football League team that will begin to play during the 2017 season.
Arena football is similar to regular tackle football, with the biggest exceptions being that it's played on a smaller field and played indoors. The AFL's ninth team is set to play its games in the Verizon Center, which is also home to the Capitals, Wizards and Mystics. The team will be owned by Capitals and Wizards owner Ted Leonsis.
According to a March 10 ArenaFootball.com article, AFL commissoner Scott Butera believes that the new Washington team is the AFL's first step in rejuvenating the AFL brand presence in American sports.
The new team is a high risk for the AFL due to the history of arena football teams in D.C.. The Washington Commandos played in D.C. starting in 1987 but folded in 1990. The D.C. Armor played in 2009 but folded after only one year because of poor attendance at their 10,000-seat venue, the D.C. Armory. In spite of this, Butera and local fans are still confident that the market will be good for the team.
According to Butera in a March 10 Washington Post article, the market in Washington fits the AFL's strategic plan. He believes that Washington is a great football town and it should be very supportive based on the support the Redskins receive year after year.
However, in a survey of 23 CHS students, just over 52 percent of the students said they would be interested in the new team. One of the students interested in the team includes sophomore Aidan Liquorie.
According to Liquorie, he has "watched [AFL games] on Friday nights when there is nothing else on." He plans to attend games at Verizon Center if the quality and skill of the Washington team is good.
Although interested in the team, Liquorie does not believe that the fan base could become as strong as other D.C. teams. The usual sell-out crowds commonly seen during Capitals and Redskins games may not be as common for the AFL games.
"The stadium would be half-empty," Liquorie predicts.
With the history of the past D.C. arena football teams having poor attendance, this would not be surprising. However, there are still reasons to give the AFL a shot. During the last NFL season, rule changes were implemented to make the sport safer. However, these new rules and sometimes-questionable officiating often aggravated many fans.
"With all the crazy and bland rule NFL rule changes, the AFL will be more interesting," sophomore Bradford Wood said.