Despite Early Exit, Outstanding Season Paves Way for Future Success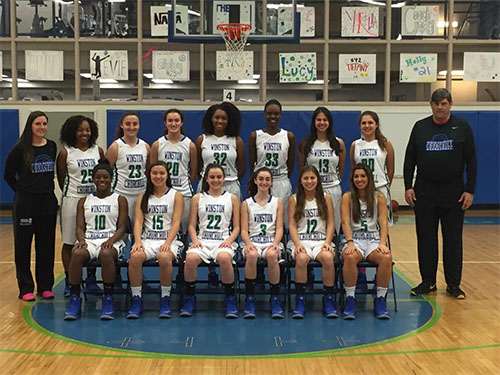 "Keep your eyes on the stars, and your feet on the ground," a famous quote from president Theodore Roosevelt, closely relating to the resilient 2015-2016 basketball team who concluded their promising season with a  18-6 record.
The team showed vast improvement over the course of the season, helping to improve attitude and dedication towards the highly competitive sport. Unfortunately, the team fell short, losing to BCC high school in the second round of playoffs by 3 points.
"I was proud with the team's overall performance as well as the amount of improvement over the course of the season," head coach Katelyn Blanken said.
As far as key players for the successful season, seniors Kennedy Gray and Nicole brodkowitz as well as juniors Coco Kuchins and Nina Hacopian immensely contributed to the team's record as well as performance throughout the year.
"Coco Kuchins is our point guard and always brings high energy as well as Nicole Brodkowitz's 3-point shooting, whom both contributed to the team's overall success throughout the year," junior captain Nina Hazra said.
Furthermore, the team had faced tough battles throughout the season with Whitman being the most vigorous team faced during the season. The team included various division one commitments and went on to win the regionals tournament.
"I think our team did well this season even against some of the toughest teams due to the improvement from the beginning of the season," junior captain Coco Kuchins said.
According to Kuchins, she believed the team had successful chemistry throughout the year among her teammates and noted there was no particular drama, making the team extremely focused during the season.
By setting this year as a standard for years to come, the girls basketball team is prepared to bounce back in the future, with an abundance of new strategies as well as gameplay that will further their chances at competing for the county championship title.
"I want the team to be scrappy next year by working on skills on and off season in order to better our chances against tough teams," Blanken said.