New Golf Coach Has High Expectations for Team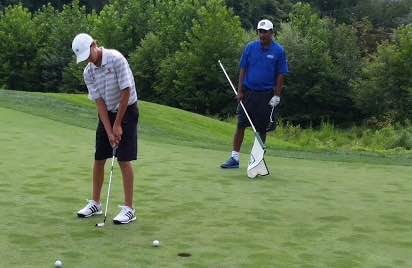 Coming off an MPSSAA state championship win last year, the golf team was left coach-less after former head coach Mike Fisher stepped down, that is, until CHS resource teacher Aaron Vactor took charge as the team's new coach.
"I've coached golf in the past at Einstein," Vactor said. "My dad is a golf instructor, and I hope to improve with my own game. Golf is just a great game, and not everyone can play it."
Vactor has coached CHS girls and boys basketball, as well as football. For each team he coached, Vactor said, he always admired the level of understanding the student athletes had and the relationships he built with his players over the years.
According to Athletic Director Scott Rivinius, Vactor showed immediate interest in the coaching job as soon as it was posted, and is very confident with the new leadership in  the team.
"Vactor is an avid golfer and is very passionate about the sport," Rivinius said. "Expectations are high, but the team seems very focused to try to not only reach the level they achieved last year, but to exceed it."
With his high expectations for the team, Vactor stresses the importance of staying focused, and not letting their egos get the best of them.
"I'm just telling the players to stay humble and focused on the goal," Vactor said. "We have great senior leadership with [Gray] and [Schaap], so it really makes it easy."
Under Vactor's coaching, the team began the season 4-0, shooting two under par in its first few matches against Wootton, WJ, Whitman, Northwest and B-CC.
Junior Oliver Whatley, sophomore Dylan Rotter and senior captains Luke Schaap and Adam Gray, continued last year's momentum in the team's first few matches, and hope to accomplish even more than last season.
"Our main goal is to obviously win States again, but this time we want to break the scoring record that we missed by five shots last year," Schaap said.
Last season, the golf team beat second-place Wootton by 10 strokes to claim the team State Championship win. Rotter finished second in the state individually and Gray finished fourth.
According to Gray, he agrees that the team is a force to be reckoned with under the leadership of Vactor.
"Coach Vactor is a great guy and he really understands how to connect with the team," Gray said. "He keeps things light and fun, but knows how to be serious when the time is right."
With expectations of repeating last year, Vactor looks forward to the rest of the season.
"I think we're moving in a positive direction," Vactor said. "I'm still new as the golf coach, but I'm hoping I can continue to make a difference and have them believe in me, the way I believe in them."