Senior skates toward win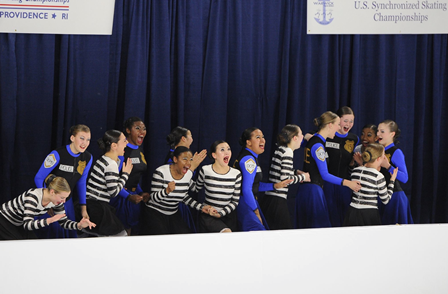 When senior WeiAnne Reidy was 4 years old, she fashioned pretend ice skates out of cardboard, a medal out of dental floss and duct tape, and pretended to win a national gold medal for figure skating, just like her idol, Michelle Kwan. Thirteen years later, she won one herself.
Reidy won a national gold medal with the Washington Figure Skating Club's DC Edge intermediate team at the 2015 US Synchronized Skating Championships in Providence, RI on Feb. 26.
"My mom and I joked that maybe one day I'd go to the National Championships and win a gold medal, but 13 years later it happened, just a little differently than I imagined— I won it with 13 other athletes," Reidy said.
This was DC Edge's first year as a team at the intermediate level, and a majority of the team had never been to nationals.
"We were complete underdogs," Reidy said. "The score we had to beat was so high and above our personal best, so I thought there was no way we would even place. When our score popped up, the only emotion I had was relief."
Reidy credits this win to her team's undeniable chemistry.
"Our team is the most diverse team in the country," Reidy said. "We are all very different people, but somehow it all meshes together. Now we are an inseparable family. We won nationals because we went into our season with the same mindset: start unknown, finish unforgettable."
After graduating this spring, Reidy will attend the University of Maryland in the fall. She plans to continue skating competitively, although that was not always the case.
"I don't see how I can stop now," Reidy said. "I'm better at skating than I am at walking. I hope to keep skating for the rest of my life, and I'm looking into coaching as a continuing side job."
The road to nationals was a challenging, albeit rewarding experience for Reidy, who woke up at 4 a.m. to practice, worked with a physical trainer to increase her hip flexibility, and gave up spending time with friends. As one of the oldest members of the team, she also learned valuable leadership lessons.
"This season changed so much about me," Reidy said. "All in all, I learned that to make an impact, you need to be different and you have to devote yourself entirely to accomplishing your goal."