CHS Bulldogs? That has to mean boys… right?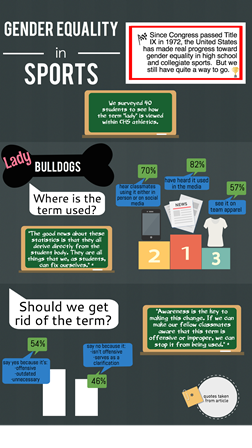 "Come out to the basketball game tonight to support your Gentlemen Bulldogs!"
Doesn't that sound ridiculous? No one would ever feel the need to refer to a boys team as "gentlemen." Why then, do we still use the term "lady" to let our peers know we're talking about a girls team?
According to the official Title IX website, Title IX is "a law passed in 1972 that requires gender equity for boys and girls in every educational program that receives federal funding." As a federally-funded educational program, high school athletics legally must be equal. Referring to one of your soccer teams by the school mascot and the other as the female version of that mascot is not equal. Period.
Of course, the people who use the term "lady" aren't being intentionally discriminatory, ignorant or downright sexist. The prefix "lady" in college and high school athletics has a long history that dates back to well before the introduction of Title IX, but is now a very outdated idea.
For the most part, NCAA women's programs have gotten rid of the term "lady" in their team names. The most notable use of "lady" comes from the University of Tennessee, where every women's team but one dropped the prefix to become "Volunteers" last November. The women's basketball team remained the "Lady Vols" to honor the tradition established by former coach Pat Summitt, who led Tennessee to eight NCAA championships and holds the record for most wins in NCAA history for either a men's or women's team.
Understandably, Tennessee wants to honor such an iconic coach in a special way, but continuing a tradition that is offensive to some is not the way to do it. Tradition is, of course, also the main argument used in the case of keeping the name of the Washington Redskins, which will inevitably be changed because it has been proven that people find it offensive. Plus, the argument "We've been doing this for a long time" doesn't exactly equate to "This is a good idea and we should keep doing it."
While none of the girls sports teams here at CHS officially use the word "lady" in the same way that Tennessee did, the term is used often to differentiate between the girls and boys teams.
According to an Observer survey of 40 CHS students, 90 percent of the student body has heard the term "Lady Bulldogs" at one point or another from a member of the CHS community, and the most common uses of "Lady Bulldogs" come from team apparel, students themselves, and media coverage (including several past Observer articles and coverage by the Daily Dose).
The good news about these results is that they all derive directly from the student body. They are all things that we, as students, can fix ourselves. It isn't an issue of budgeting or persuading administration that they need to make a change. This is a simple case of changing the words we use to change the way people think. If you've taken AP Psychology, you know this as "framing."
Although this might seem like a trivial matter to some, using "lady" in girls sports perpetuates the idea that girls' sports are inferior to boys sports. Take, for example, the case of the University of Maryland's basketball program. You can find the women's team on Twitter with the handle "@umdwbb" and the title "Maryland WBB." Maryland Women's Basketball. The men's team, however, gets the coveted handle "@TerrapinHoops," and the vague yet empowering title "Maryland Basketball." You know that Maryland Basketball means men's basketball. I do too.
This perfectly showcases the problem with the way we differentiate between male and female teams. The problem with these separate perceptions is that it subtly suggests that the boys teams are the ones actually representing the school, while the girls teams are a level below.
In a November 2014 column by USA Today sports columnist Christine Brennan, Aimee Mullins, a former Women's Sports Foundation president noted that "it's symptomatic of a larger pattern of women's programs being viewed as the stepchild of the men's programs. It demeans the seriousness of the women's program to use the term 'lady.' These women train the same hours. It's not a cute pursuit."
After collecting survey data for this article, I was disheartened to realize that only 54 percent of students agreed that the term "lady" should be discarded. A few minutes later, however, I received a Facebook message that gave me hope.
"I can't believe I never noticed how weird it is that we specify ladies and not men," senior Miranda Catsambas said after completing a survey for this article. "It just goes to show that even someone who is aware can still be oblivious to some things that contribute to sexism."
Awareness is the key to making this change. If we can make our fellow classmates aware that this term is offensive or improper, we can stop it from being used. There are no more excuses for referring to female athletes in a different way than we refer to male athletes. Male or female, we all represent CHS. We are all Bulldogs. It's time for everyone to be treated that way.