Athlete of the Month: Kali Becker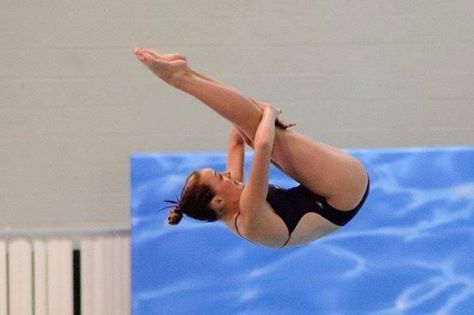 Winning states. For most high school athletes, it's the ultimate goal for senior year, a culmination of four years of hard work and dedication.
Senior Kali Becker is no stranger to such success. As a freshman, Becker won both the Washington Metropolitan Interscholastic Diving Championship (Metros) and the Maryland State Diving Championships at the University of Maryland, College Park, breaking a 14-year-old pool record by 22.50 points.
"That was really cool," Becker said. "It came down to the last dive, and I had to do a really good dive to win it. It was so much fun, too. I was the youngest one out there and I was like, 'You know what? I'm 15. The rest of the people here are 18, so whatever happens, happens.'"
Her former swim and dive coach, Brendan Roddy, who will not be coaching CHS swim and dive again this year due to his new role as the Art Department resource teacher, recalls a similar memory from Becker's experience at Metros.
"She had stiff competition from a senior girl from another school and the two of them were dive for dive until the very end," Roddy said. "I remember Kali nailing her last dive and we just knew that she won. We waited for the results, and there was a little bit of crying."
Roddy also recalls being impressed with Becker's maturity after winning the meet.
"The part that stands out is that then she was asked to be interviewed by a website," Roddy said. "It was just after we had jumped into the water and started cheering for the team, and I remember her talking and thinking 'She's a young person.' I think she was 14 at the time and listening to her talk, it didn't sound like a 14-year-old anymore. It was like a winning athlete, not just a young kid. So I watched that change happen, from her being super excited to then getting into an interview. That was very cool."
Becker began her diving career at age 8 and also played soccer until she was in eighth grade.
According to Becker, her original goal as a kid was to swim and play soccer at the University of North Carolina, Chapel Hill, but she realized that she would not be able to participate in two Division I sports at the same time.
She now coaches diving during the summer at East Gate Swim and Tennis Club, the pool where she began diving.
"I've been coaching there since I was in sixth grade," Becker said. "I've been going there forever. That's where I started. That's where I saw other kids diving and decided I wanted to try that."
True to her original goal, Becker will be diving Division I for the Tar Heels next year.
"I've been in love with UNC ever since I dove there," Becker said. "I have so many friends on the team it feels like a family."
Becker signed her letter of intent to officially dive for UNC Nov. 12.
"When she was able to make a decision and then be so happy about it, I was happy in turn," Roddy said. "And then I was really proud when she asked if I would come to her signing. I'm not her coach anymore, but it's nice to feel that she wanted to share that with me."
According to Roddy, Becker's diving skills have consistently been exceptional.
"She came at a pretty high level of diving," Roddy said. "It wasn't like she came in and then suddenly jumped up to be this great diver. She came in being a great diver, but she has a really good ability to understand her body in the air. She's also really athletic. She's very strong for her size. She's not the biggest of people, which helps in diving: you flip faster and are able to do things that someone who's taller may not be able to do."
Although diving is very much an individually-scored sport, Becker credits much of her success in the pool to the rest of her swim and dive team.
"Everyone's so supportive and they're all such great teammates," Becker said. "There's no way I would do as well during the season without them."
As a captain this year, Becker will have a big role in motivating the team, which Roddy does not believe will a difficult task for her.
"She was always energetic, always bouncing around, everyone liked being around her," Roddy said. "Just her positive attitude and her smile were infectious. She was able to take a dive meet, which can sometimes be a little daunting and long and a little serious, and brought light and life to it. She was also able to keep things in perspective, even when she didn't perform to what she believed was her standard and didn't nail everything. She also kept in mind that it's one meet in the course of a longer career of diving."
Becker's current coach, math teacher Christopher Tappis, also has high hopes for Becker this season.
"Kali is a phenomenal diver, but she is also a great leader on our team," Tappis said.
With next year at UNC in sight, Becker has a different list of goals for this season.
According to Becker, she is motivated this season by three main goals: "finish out strong," "qualify for Nationals again," and "prepare to train in college because it's a lot different, a lot harder."
Despite the hard work and tough competition ahead, Roddy has faith in Becker's success.
"I think if she's able to stay healthy and she really trusts in her ability and trusts in coaching, she's going to do some really special things down at UNC," Roddy said. "I'm excited to see what happens. I don't want to say what meet she'll go to or that she'll win everything because that's not why we do this. Why we do this is to challenge ourselves and get better, and I do expect her to do that."
Over the years, Becker has proved that her work ethic is what continues to lead her to success.
"I've wanted to go to UNC since I was 10 years old," Becker said. "I had a dive meet there and I was like, 'Oh my God, this is the school for me. I have to be here.' So I used to go into practice every day being like, 'I have to work for this. This is what I want.'"