Redskins must move past RGIII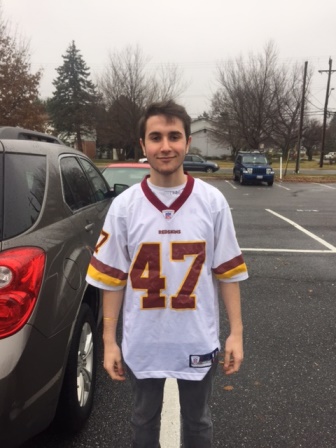 Although at one point he was a beacon of hope for Washington fans everywhere, Robert Griffin III's leg injury has left him talentless, and it is time for the franchise to move on.
In the 2012 draft the Redskins traded the Rams three first round picks and a second round pick in exchange for the second-overall pick. The Redskins used that pick to select Griffin, and many fans thought that the Redskins quarterback woes would finally be over.
According to senior Gregorio Zimmerman, immediately after the draft he thought that  Griffin would "save the team."
Initially, Griffin lived up to the hype. In 2012 he had a career high in rushing yards per game, 54.3 yards per game, and his highest QBR, 102.4.  He was named the 2012 Offensive Rookie of the Year and lead the team to the playoffs for the first time in five years.
Then in the third quarter of the 2012 wild card game against the Seattle Seahawks, Griffin dropped back to pass and suddenly tumbled to the turf with torn ligaments in his knee.
According to Zimmerman, Griffin has not been able to fully recover because as a mobile quarterback he "needs his knees about as much as he needs his arm."
Griffin returned the next season and never fully recovered. His rushing averages dropped to 37.6 yards per game, and his QBR dropped to 82.2.  The Redskins came in last in their division with an abysmal 3-13 record.
After a subpar start to this season, Griffin suffered an ankle injury against the Jacksonville Jaguars in week two. Longtime backup Colt McCoy took over, and the team rallied behind him to upset their rivals the Cowboys in an overtime thriller.
According to junior Michael Hughes, McCoy is the better quarterback for coach Jay Gruden's offense.
According to a Nov. 3 ESPN article, Griffin's is losing the support of his teammates, but owner Dan Snyder is insisting that coach Jay Gruden sticks with Griffin.
Griffin has lost the support of fans and teammates. He lacks natural leadership ability, and he is extremely injury prone.
According to Senior Malcolm Udeozer, Griffin needs to go because he no longer fits "into the the team dynamic."
Some still support Griffin though. Amongst his most adamant supporters are general manager Bruce Allen and team owner Dan Snyder.
According to sophomore Matt Goldsmith, the team has invested too much into Griffin to give up on him now, and instead they should "keep him and hope he gets better."
Although the Redskins have invested a lot into Griffin, it is clear that he is not the future of the team, and they should begin to search for better options either through the 2015 draft or with McCoy.
It is time to put an end to the Robert Griffin III saga in Washington. It would be in the team's best interest to cut ties with him and start over in their search for a franchise quarterback.