Colt McCoy takes over starting job for Redskins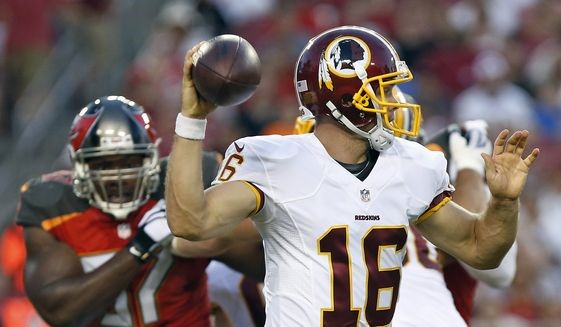 Washington Redskins quarterback Colt McCoy has taken over the starting job after an injury to original starter Robert Griffin III and poor play by backup Kirk Cousins.
McCoy started the season as the Redskins' third-string quarterback and has not played in an NFL game for almost a year, but after playing spectacularly on Sunday against the Tennessee Titans, he is likely to be the at the helm of the franchise for at least one more week.
"I think Colt McCoy is a good quarterback who can win games and turn this year around and lead the Redskins to the playoffs," sophomore Matthew Kaufman said.
In Sunday's game, McCoy completed eleven of twelve passes and accumulated 128 passing yards, while also achieving a 138.9 passer rating. Neither Griffin nor Cousins have achieved a passer rating that high this season. McCoy also led a game-winning drive in the final minutes.
According to the NFL official website, McCoy should be the favorite to start at Dallas this week if Griffin isn't ready to return, and head coach Jay Gruden said after Sunday's game the coaching staff will gauge Griffin's status after he practices on Wednesday.
Prior to his time in Washington, McCoy has had a mediocre career, spending three years on the Cleveland Browns and one on the San Francisco 49ers. His career average passer rating is only 76, and he has only completed 58.9 percent of his passes.
"If he were to win one of the next two, he would be the primary backup, and I'm expecting him to be decent this week," junior Kehl Markley said.
According to The Washington Post, McCoy could replace Cousins as Griffin's primary backup once Griffin is healthy, mainly due to the poor play by turnover-prone Cousins.
McCoy has definitely had his ups and downs throughout his career and has been aching for a chance to play this year. Next Monday, against the Dallas Cowboys could be his time to prove his worth to Washington.
According to ESPN, McCoy has great intangibles and is a very good competitor. He has the ability to be a good NFL quarterback and has a stellar demeanor.
Although his career statistics may not back it up, Colt McCoy is the starting quarterback in Washington until Griffin is healthy, and he has already proved that he is ready for the responsibility of leading one of the NFL's most controversial teams.