CHS represents at Lax World Championships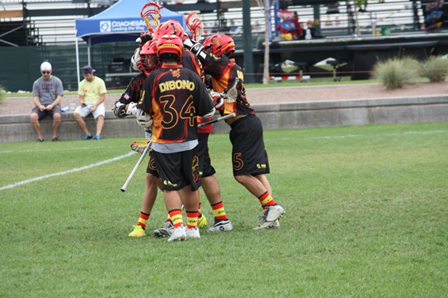 Many high school athletes aspire to make it to the pros one day, but for a couple of CHS lacrosse players, that dream became reality much sooner than expected.
Senior attackers Danny DiBono and Louis Dubick both played for professional teams in the World Lacrosse Championship held this summer in Denver, Colorado, representing Spain and Israel, respectively.
"It was a great experience," Dubick said. "I met a bunch of really cool people, and it helped me prepare for the season, playing against bigger and faster competition."
For DiBono, whose mother is Spanish, the tryout process was different from most other players' experiences. His father originally joked that DiBono should play for a Spanish lacrosse team, but after discovering that the national team actually existed, he contacted the coach and was able to practice with the team in lieu of a tryout.
"He asked if there was any way I could make or tryout for the team," DiBono said. "They said that the tryouts were already over, but that I could come out to Denver and practice with the team. Training started about two weeks before the actual tournament."
Dubick was also introduced to the team by his family.
"I became involved with Israel lacrosse through my cousin, who had recently traveled to Israel and spent some time with the program," Dubick said. "When I arrived in Denver, I practiced and played with the team that was in the festival."
DiBono, who finished the tournament as the second highest scorer on the Spanish team, credits many of the opposing teams in Colorado as being more competitive than CHS's usual match-ups.
"The competition was very different from Montgomery County," DiBono said. "Most of the teams I played against were grown men in their mid-20s."
During Dubick's four exhibition game run with Israel, he shared a similar experience.
"All the athletes were bigger, faster, and stronger, since most were older," Dubick said. "The members of team Israel were on a different level than our team here at Churchill. Most, if not all, played college lacrosse, one or two were even All-Americans."
DiBono and Dubick both woke up early in the morning to eat breakfast with their respective teams, took shuttles to their game sites, and then returned to their hotels to relax in the evening. Dubick, however, encountered an experience unique to the country he represented.
"When we played the Netherlands and we pulled up on the team bus, there were protestors protesting against the existence of Israel," Dubick said. "For those of us who lived in the US, we kind of held our breath. But those who lived in Israel acted as if it were some kind of funny joke."
DiBono and Dubick were not the only players representing CHS during the tournament. CHS alumnus Brett Rolf was an assistant coach for the Costa Rican national team, and 2007 alumnus and current CHS lacrosse assistant coach Bertan Unal played for Turkey.
"It was really cool to play against Turkey," Dubick said. "Unal, one of my coaches at Churchill, guarded me for a little of the game. The fact that we represented two different countries out in Denver, when we could have just driven five minutes at home to go against each other was awesome."
Next up for DiBono and Dubick? Their final season as CHS lacrosse players. Both also have expressed interest in playing in the next Lacrosse World Championship, set for Manchester, England, in 2018.
"I think that my experiences at least helped me to understand the importance and success of playing as a team," DiBono said.