Cracked track and spotty footing cause injuries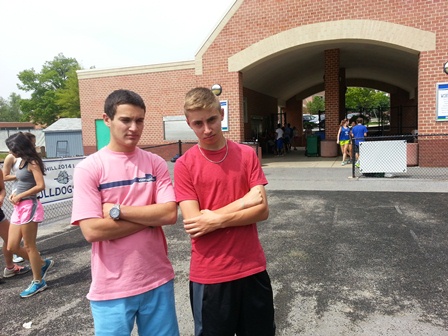 The number of injuries suffered by CHS running athletes participating in cross country and track and field continues to increase each year, but recently it has reached worrisome totals.
The rapidly deteriorating CHS track is a problem for both athletes and the community because of its danger and ability to affect sports performance.  However, it seems that MCPS believes that it is less of a priority than other school tracks, even though it is worn out, peeling off and full of clearly visible holes.
The condition has deteriorated to the point that track and field head coach Scott Silverstein has mandated that the team avoid running in the first lane during practice.  Undoubtedly, the awful quality of the track is a problem that must be dealt with because it is dangerous to athletes, hazardous to the community and has a negative effect on athletic performance.
According to Silverstein, the track team has suffered more stress-related injuries this year than in his first five or six years of coaching at CHS combined.
Injuries can be debilitating to an athlete's ability to participate in physical activity.  In some cases, an athlete may be permanently affected, causing problems in both competitive events and daily life.  Track-related injuries include stress fractures, shin splints and runner's knee.   CHS athletes, including fastest female distance runner junior Lucy Srour, sophomore Mitchell Welter and sophomore Michelle Su have been kept out for extended periods of time this season because of stress fractures and runner's knee.  Welter, Su and Silverstein believe that the quality of the track has led to these injuries.
According to senior Zach Lippman, who has suffered two separate stress fractures in his foot and soft tissue damage over two years, running on uneven footing leads to stress-related injuries by putting unnecessary pressure on the feet.
In addition to posing a threat to CHS athletes, the condition of the track is a problem for the community.  The track is open to visitors, meaning that people make use of the same torn-up ground as CHS runners.  Therefore, community members face the same risk of injury as student athletes.
According to CHS athletic director Scott Rivinius, exposed pavement can lead to wear and tear in the lower bodies of community users who run on the track on a regular basis.
While track quality is a health issue for both student runners and community members, it also produces negative effects regarding the performance of Track and Field athletes in competitive running events.  Spotty footing, unevenness and exposed concrete only serve to slow down participants by throwing off their balance and causing discomfort.  It is unfair for athletes from both CHS and other schools to be placed at such a disadvantage because it inhibits them from performing at their best.
According to junior Brendan Fagan, the condition of track directly correlates to his worse performance in home meets.
According to Silverstein, MCPS does plan to power wash the CHS track and fill up its holes later this year.  However, this action would only temporarily solve the problem before the track deteriorates back to its current condition.
According to Rivinius, the effect of patching up the holes should last two to three years, and MCPS hopes to take further action only then.
CHS must deal with this problem by requesting that MCPS allow for a complete, lasting resurface of the track, instead of the scheduled temporary cleanup.  Poor track quality corresponds to the number of athlete injuries, increases the potential hazard to community members who use the track and places runners at disadvantages in competition.  The longer the track remains in subpar condition, the greater its risks are to those who run on it regularly.  Every person who uses the CHS track deserves a brand new state-of-the-art running surface.  There is no safe or fair alternative.