Benefits of HD TV outweigh entertainment of live games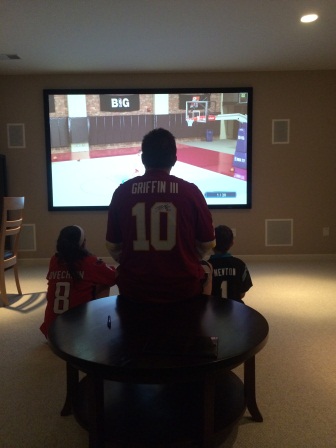 To the 20, 10, five, touchdown! The fans scream, hug, dance and cheer as the Washington Redskins score. Not only are fans at the game cheering, but fans are also at home, sitting comfortably on their couch watching on an HD television.
While going to a sporting event is always a great experience, watching sports live on an HD TV is more enjoyable. Going to a sports event can cost huge sums, take travel time, and the price of tickets, parking and snacks can quickly dig a hole in one's wallet. If you don't mind shelling out tons of money, sports events are your niche.
According to a 2013 ESPN.com article, NHL ticket prices have increased by 5.7 percent since 2012, NFL by 2.5 percent and the NBA by 3.5 percent. The Washington Capitals have the highest average ticket price of all American teams in the NHL with a price of $79.25.
Unfortunately, an $80 Caps ticket usually means you're paying for nosebleeds seats. Why not enjoy all the action of the game on an HD television as opposed to barely seeing any action at the game?
According to a 2013 CNN Money article, the average price of parking passes in the NFL has more than doubled in the past 10 years. The average money spent at an NFL game is $209 for two tickets, two beverages and one parking spot.
Sporting events also take a chunk of time from one's day because not only does the game take several hours, but so does the driving time.
According to Google Maps, from CHS, it would take 45 minutes to drive to M&T Bank Stadium in Baltimore, 39 minutes to the Verizon Center in DC, 30 minutes to FedEx Field in Landover, and 33 minutes to National's Park in DC. That's without traffic.
Watching sports from the comfort of one's home cannot beat watching on an HD TV which provides the action of the game with spectacular definition and great angles. The game can also be paused to take a bathroom break or to restock the chip bowl.
While some may argue that going to a sporting event provides an unforgettable experience by interacting with the crowd and seeing the best players play in person, others argue that you can have an even better experience by inviting friends over to cheer on your favorite team and bringing snacks to enjoy while watching the game on television.
Next time, instead of spending half of the day in the car on the way to a stadium, sit back, relax, save some money and enjoy any sports event from the comfort of your living room sofa.