Handball team dominates, achieves winning record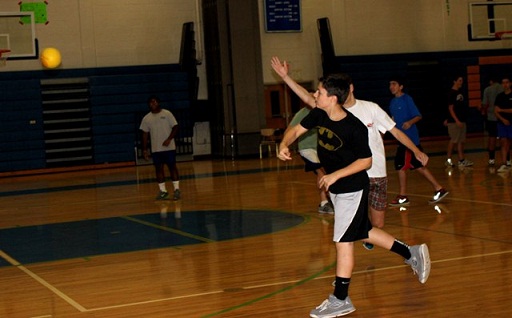 Players race across the gym. There is a blur of yellow as they pass the ball back and forth. The ball may be flying between player, but their eyes are locked only on the net. As they sprint down the court, the excitement builds. Suddenly the player stops, winds up his arm and launches the ball toward the net. Goal!
Handball, a new corollary sport, was recently introduced to the CHS athletic department. Corollary sports are designed for students with and without disabilities who are interested in playing on a school athletics team but may not have the skills or desire to play at a highly competitive level. Last year the county introduced bocce ball, and this year, handball.
Although handball is the youngest CHS team, it has a 4-1 record, losing only to undefeated Blair.
"We work well together," sophomore Sebastian Rink said. "Our weakness is that we need to learn how to control possessions as a team."
The team won their first game against Whitman 15-4.
"We are extremely good at defense, which helped us to keep their score low," Agege said.
Although handball was formally introduced to the county this year, it was introduced as a pilot program last year. Blair is among the few schools that were part of the pilot program and has been undefeated for the past two years.
"I think we lost to Blair because weren't aggressive enough," sophomore Ovie Agege said. "We'll definitely beat them next time."
Because handball is a corollary sport, it is universal and can be played by all students.
"Handball is a confident booster for all," head coach Jaime Marchese said. "It provides the opportunity for diversity among students."
Handball, although played internationally and offered in the Olympics, is unique to Montgomery County.
"We are the only county in the country that offers handball," assistant coach Daniel Lethbridge said.
Although the team is facing some tough competitors in the upcoming playoffs, they ultimately consider the sport a learning experience.
"It's a learning process for all of us," Lethbridge said. "We take it one step at a time."
Division Playoffs begin the week of October 26.