Girls lax pulls out winning season, upset in playoffs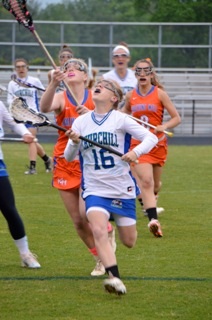 As girls lacrosse closes the end of the regular season, the team hangs on to a winning regular season record of 8-5.
The Bulldogs ended their season with the second playoff game May 10, losing 14-12 against Blake in the MPSSAA 4A/3A West Region Quarterfinals.
"Competition this year has been a lot more difficult, but we tried our best to stay in the game," Rindner said.
The Bulldogs won their first playoff game, 26-4, May 8 against Kennedy.
"I was really proud of how well our team played together, especially considering the field was not in good condition due to the weather," freshman Annabelle Humiston said.
Girls lacrosse ended the regular season with a home win against Watkins Mill May 6 with a final score of 11-9.
"We lost a lot of players this year and basically started out with a whole new team of girls," sophomore Cassidy Caulk said. "But with all that being said, I think we have all come together very well."
The Bulldogs have won the past three 4A/3A West Region championships and intend on making it four.
"It would be amazing to be able to win again and go to states," Caulk said. "But it's also important that we keep developing as a team in order to reach our full potential as players."
The Bulldogs' close connection amongst teammates is yielding positive results.
"Our team works very well together, on the field and off," sophomore Emily Rindner said. "This year everyone on our team is really close, which is an important component to not only playing well together, but being supportive of each other."
As a team with many underclassmen, the Bulldogs have had to find a way to maximize leadership.
"With such a young team it has been an opportunity for everyone to step up and have the chance to make plays," head coach Jamie Frank said. "I have a great group of girls, and they work well together."
In her first season coaching the team, Frank aimed to continue in the successful footsteps of previous Regional championship-winning seasons but also realizes the importance of strengthening a young team.
"My ultimate goal was to develop their skills and teach them how to play the game," Frank said. "I have always tried to develop a goal-oriented approach to coaching."
Girls lacrosse faced tough opponents, including B-CC and Wootton, which created a struggle for the Bulldogs.
"It comes down to wins and losses," Frank said. "Hopefully the girls have developed the skills necessary to take them as far as they want to go."