Boys Volleyball suffers disappointing playoff run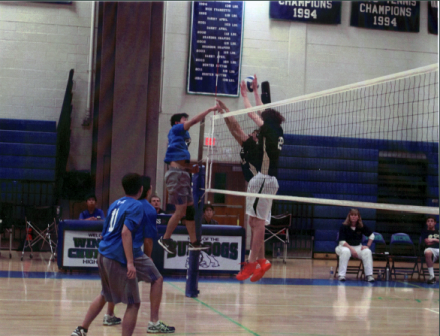 The boys volleyball team lost to Watkins Mill 3-0 in its first round playoff game May 2. The loss put an abrupt end to a great season for the Bulldogs, as the team finished with a 7-4 record.
"I knew this would be a good season," junior setter Alex Fang said. "This is the best we've done in four years."
The playoff defeat came three days after losing the final game of the regular season to Blair, 3-0, April 29. The loss followed the team's previous loss to B-CC April 26.
"We need to develop a hunger to win or, more importantly, a mindset where losing is not an option," head coach Erika Eastham said.
Throughout the season, defense was the vantage point for the Bulldogs. Their offense, self-admittedly, needed a little tweaking.
According to senior middle Evan Rheingold, the team had "great offensive potential," but was not able to capitalize on it at times.
However, the team's season cannot be defined by their faltering at the end. With strong wins during the regular season over nearby competitors Walter Johnson and Whitman, the team has a bright future for next year.
"Sophomore Charles Yang is definitely a rising star," Eastham said. "He has the ability to give our team depth on offense."
The team will still be losing six seniors this year, including key players Roy Zhou and James Wu. Along with middles Rheingold and Leo Blooston, setter Alex Chiang, and libero Brian Chen, the bulk of the starting lineup will be graduating, leaving many questions about the team's future. Yet, Eastham has a plan to compensate for their absences.
"Two big things we really need to work on in the future are transitioning from defense to offense and having a strong killer instinct," Eastham said. "But, that's really the fun part of volleyball, so I am looking forward to making CHS a really aggressive team."