Volleyball sets sight on playoffs, kills the competition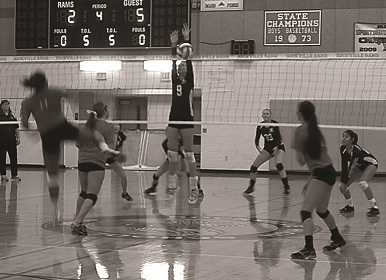 The girls volleyball team is having a solid season, earning a 7-5 record thus far.
The team lost 3-1 to B-CC Oct. 17.
"This was a hard loss," coach Cindy Hillard said. "In the game we won, we dominated so it was hard to lose in four."
According to Hillard, if the team had more first ball kills, it would have won, and it plans to work on this to win later games.
The Lady Bulldogs won in their ninth game of the season 3-0 versus Watkins Mill Oct. 15.
"This was a sweet win because there were several girls on Watkins Mill that our girls know well," Hillard said.  "Sophomore Ximena Tellez and senior Carina Graham were the big players in this match."
Graham had many strong blocks and connected well with senior captain Adrianna Lee. Tellez had some key kills, and throughout the game, Watkins Mill never managed to shut her down.
The team lost game eight of the season 3-0 to Wootton Oct. 11, despite the return of sophomore Olivia Chao. Although it changed positions and the line-up, it was not enough to beat Wootton.
"Chao has been on the disabled list for most of the season, and the game against Wootton was her first night back," Hillard said. "She played well and contributed heavily as libero."
The Lady Bulldogs won their seventh game of the season against Whitman, 3-1, Oct. 8.
"The Whitman game was great because we were able to put in the entire bench during the third game, so everyone got a chance to step up," Graham said. "A lot of the underclassmen, especially Lucy Bedewi, really took the opportunity to shine."
The key plays of the match were made by freshman Bedewi with six digs, sophomore Sara Chang with seven kills, six digs, and five blocks, Graham with nine blocks, and junior Kaitlyn Hillard with eight kills.
The girls suffered a 3-1 loss against top team Richard Montgomery Oct. 4.
"RM was definitely our toughest game," Graham said. "We actually won a set against them when they cracked under the pressure and fell apart, but we couldn't keep the heat on them consistently enough to win it all."
Throughout the game, CHS had many phenomenal plays.
"The middle hitters for RM were very effective," Hillard said. "From our side, Kaitlyn Hillard and Chang served exceptionally scoring with aces and other difficult serves, while Jasmine Soriano and Fanny Chen each had four digs and played well."
The team earned a win over Rockville 3-1 Oct. 1.
"We played that game with a lot of commitment and it showed," senior captain Lauren Lane said. "We lost to Rockville last year, so this really showed us how much we're improving."
The team lost 3-0 to Poolesville on Sept. 27, which Lane attributes to the team playing down to their opponents  level.
"We really thought we were going to win that game, which I think was our problem," Lane said. "We should never go into a game too cocky. It affects the way we play."
CHS beat Kennedy 3-0 Sept. 24.
The big hitters were Hillard with eight kills, Graham with four kills and Chang with four kills.
"We went into the game determined to play our best, and I think we did," Lane said. "We had been working on serving, receiving and hitting during practice, and I was proud to see us execute it during the game."
The Lady Bulldogs have to make some improvements and find consistency to continue their great season.
"Some games we have great defense, and other games we have great offense," Graham said. "We need to make it so that every game has both. When we get a fantastic dig, we have to be able to convert it into a hit, just like when we have a great kill, we have to be able to play defense to keep the advantage."
The team feels it is winning games and playing hard for one main reason.
"Our coach, Cindy Hillard, is amazing and passionate about coaching which I think is an important aspect of it," Lane said. "She has full faith in us,  and we're completely ready to prove to her that we can do it."
CHS faced Quince Orchard Oct. 24.