Boys lacrosse focused on postseason success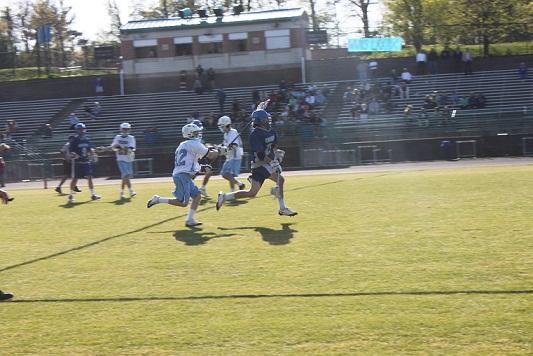 It was the last day of school before spring break. While most kids were getting ready for vacation or celebrating, the Bulldogs were getting ready for a crucial game. A win would continue their streak; a loss would halt their momentum and ruin the start of vacation. Eye-black on, in the zone, senior captains Cameron Moshyedi, Spencer Ralph, Tyler Wooster and junior Matt Leonard led the team out onto the field to take on the Paint Branch Panthers.
 The Bulldogs beat the Panthers 14-3 March 22, with goals from Leonard, Moshyedi and freshman Louis Dubick. They defeated Walter Johnson  10-5 April 11 and two days later they marched by Whitman 11-9. However, despite the impressive score lines, the team was still disappointed with some of its performances.
 "We had moments of brilliance," head coach Jeffrey Fritz said. "We were really lackluster. The effort was there; the execution was not."
 While the Bulldogs were clearly the better side in the Paint Branch game, dominating offensively and maintaining long spells of possession, the Panthers didn't give up easily and still managed to scare CHS with decent shots—most of which were blocked by sophomore goalie Matt Gloger.
 "We came out a little soft, and Paint Branch came out strong," Moshyedi said. "They gave us a wake-up call. We cleared the ball well and possessed when we needed to. We scored goals at big times."
 After the game, the players went home to prepare for the departure the following morning to New Jersey and Pennsylvania, where they scrimmaged against private schools Rumson, Notre Dame and Lower-Merion public school. CHS beat Notre Dame 15-7, Rumson 9-8 and lost to Lower-Merion 10-7.  According to Gloger, the trip helped build camaraderie and gave the guys a chance to bond.
 "The trip was fun," Gloger said. "We were all hanging out; we played three games. We went to the NCAA tournament and saw Duke vs. Syracuse and Notre Dame vs. Rutgers."
 The trip, organized for the first time, helped to build spirit in a team upperclassmen-heavy and intent on going as far into playoffs as possible. With fourteen seniors, the team dynamic is already shaping into one of competition and urgency.
 "We have a lot of seniors; they're stepping up," senior Joe Byrne said. "We set a lot of new traditions. We went to all of the offseason workouts; we took it a lot more seriously. It was intense. We're setting an example."
 According to Wooster, the team is pushing to break records, starting with the regional final curse and beating rival Wootton.
 "It's your last year here, you got to love it," Wooster said. "The goal is to end up at states—that's a good possibility."
Along with experience, the team is also relying on a crop of talented underclassmen who have become resourceful. According to Wooster, Dubick is among the players to watch. He and junior goalie Peter Hurd both stood out in the game against WJ.
 "As a freshman, he's come out so strong," Wooster said in regards to Dubick. "It's hard to believe he's a freshman because of his presence on the field."
 With leaders like Moshyedi on offense and senior Bryan Moritt on defense to guide the younger students, the team is talented enough to take itself where it wants to go.
 "We got a lot of potential," Dubick said. "We can do big things this year. The seniors have been great. It'll be disappointing unless we win states."