Hockey starts off strong, aims for back-to-back titles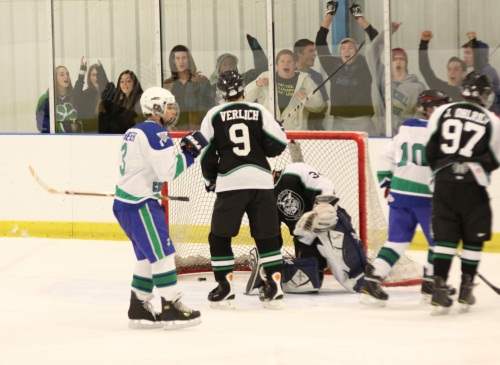 After coming off a state championship last season, the hockey team is looking to have the same kind of success it experienced last year.
The team seems to be on the right track, as the Bulldogs steamrolled Wootton, Walter Johnson (WJ) and Bethesda Chevy-Chase (B-CC) in their first three games of the season, netting a total of 26 goals in just three games.
"The defense has played very well so far," junior Patrick Meigher said. "Everyone has stepped it up, especially [junior Zach] Arden, [junior Zach] Satin, [senior Aaron] Shapiro and [sophomore Noah] Fleishman."
The team beat B-CC 7-0 Dec. 9. Arden and Satin led the Bulldogs with two goals each, and Arden also added two assists. Seniors Avi Kallmeyer and Alex Dourian and freshman Ross Allen combined for three goals, and sophomore Brandon Levenson assisted twice. Meigher and freshman David Fitzgerald each had one assist.
"We did a great job of penalty killing," Arden said. "We did not play our best, but we still managed to get the win."
Previously, the team demolished WJ 11-0 at Rockville despite the loss of Arden, who had another hockey commitment. However, Arden's younger brother, freshman Jacob Arden, picked up the slack, contributing three goals and two assists to the Bulldog's win. Jacob came out strong, netting two of his goals in the first period as well as an assist. Behind Arden, six other Bulldogs scored. Senior goalie Jake Sherker and sophomore goalie Noah Kalicka, who remained greatly uncontested throughout the game, had a shut out. The team had over 27 shots. On the other side, WJ eeked out just one shot, which was easily denied.
"We worked and hustled hard all game," Zach Arden said. "We also did a good job keeping the puck in the o-zone."
The Bulldogs opened their season with a win against arch rival Wootton 8-4 Nov. 18. Senior Alex Dourian led the Bulldogs with two goals and two assists, while Zach Arden contributed two goals and an assist. The team returns a strong group of players this season, including Zach, who received All-Gazette first team honors the previous season. In addition, Dourian and Sherker will be keys to the Bulldog's success. There is also a significant amount of young talent, found in freshmen Arden, Allen and Fitzgerald.
"The key to our 3-0 start has been great coaching, hard work and chemistry," Meigher said.
The team faced off against Sherwood Friday, Dec. 16.