Waste not, want not: composting offers green solutions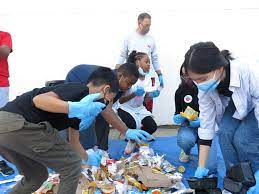 Composting, food waste and the environment: three buzzwords that are always linked together in vague speeches trying to convince everyone to compost. But what is composting really, and why should schools be paying more attention to what its advocates have to say?
According to the Environmental Protection Agency (EPA), up to 30 percent of what is thrown out in households is made up of food scraps and yard waste, which then accounts for roughly a quarter of the trash sent to the country's landfills. When taking both these shocking statistics and the moral obligation of everyone to do their part for the environment into account, it becomes clear that composting must be extended into high schools, including WCHS.
Methane is a powerful greenhouse gas that has a significant impact on global warming. According to National Geographic, it is 28 times more effective than carbon dioxide at trapping heat, so reducing methane emissions would markedly reduce the rate of warming. One of the best possible solutions? Composting. This is because when food waste is left to rot in landfills, it generates substantial amounts of methane; by composting this waste instead, a large fraction of this can be eliminated. 
When food is composted, it becomes a soil-like humus that is very nutrient-rich. Local farmers and gardeners can then use this in their planting to reduce the need for chemical fertilizers, which is healthier for all parties. It can be seen that composting is necessary and effective: so why don't all schools have composting programs?
The biggest argument against composting is simply that it is extra work. However, once members of the school community are trained properly, separating and composting becomes routine. An initial training course, which could be provided during advisory meetings, would be all that is necessary for the students to learn their parts in the process. The amount of effort needed is not a valid excuse to not even try. Furthermore, there are many students who would be willing to volunteer to ensure that the process runs smoothly and is sustainable.
Environmental efforts are some of the most popular student advocacy projects. Within MCPS, a student-led composting organization, Compostology, has already expanded composting programs into several schools. Additionally, they sent 6,000 postcards to Maryland legislators from students in support of legislation that would expand such programs. It is clear that composting programs would be well-received by students and that this would not be a one-sided effort by administration. 
On top of that, this is an extremely important educational opportunity for students. Only a few years away from becoming adults, high school students need to learn the importance of being environmentally conscious. Composting is a low-effort but high-yield method to reduce one's climate footprint, and teaching students early on what they can easily do enforces the formation of positive habits.   
MCPS currently has a recycling program managed through the School Energy and Recycling Team (SERT), as well as an Executive Regulation that requires the recycling of certain materials. In December 2021, a Sustainability Report announced that a pre-consumer food scraps program was being initiated but only stated that post-consumer composting programs were being developed by several students. MCPS needs to do more to work with these students and amplify their efforts on a county-wide level.
Commendably, the resources for recycling, including statistics, directions and flyers, are easily accessible on the MCPS website. This shows that there is already the ability and willingness to take meaningful action towards a more eco-friendly county. Providing these same resources for composting is the necessary next step. 
However, there is no reason that high schools have to wait for official action from MCPS. They have the jurisdiction to establish their own composting programs, and they absolutely should. It is clear that the students of the county are willing to step up and call for change; the ball is now in schools' courts, and they need to make the right decision as soon as possible.