Modeling of Hijabs in New York Fashion Week Shows Representation of All Cultures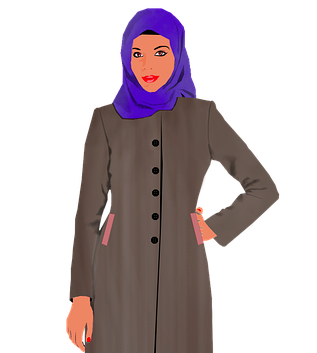 History was made during the New York Fashion Week, with Muslim designer Anniesa Hasibuan being the first to show her collection with hijabs in every outfit. This was a huge milestone in the fashion industry to moving toward equality for Muslims in society. The publicity that came with this event made it known throughout the United States, and was very beneficial to the representation of Muslim culture, especially women and young girls.
According to a September 2016 CNN article, the fashion line was inspired by Hasibuan's colorful and interesting home city of Jakarta, Indonesia.
Even though the fashion industry is infamous for having negative consequences on females, with culture appropriation problems and body shaming, this New York Fashion Week show portrayed how the fashion industry's huge sphere of influence can be used for good.
According to a University of New Hampshire study, 59.8 percent of their respondents (all respondents were female from ages 18 to 23) read Cosmopolitan magazine regularly and all respondents went on social media to stay updated on fashion trends.
The impact of the fashion industry is international, and it is becoming more progressive, making many women (especially those of a minority) feel more accepted and valid. And ultimately making society a more welcoming place to all people from different cultures.
Also, the fashion industry has become an outlet for showing culture through your dress. Recently, black people in the workplace have begun to wear scarfs, cummerbunds and bow ties made of kente, a colorful cloth adorned with intricate designs, and African Americans (especially women) have begun to wear their more naturally to express their proud relationship with their African roots.
According to a March 2015 Baltimore Sun article, the sales of hair relaxers have dropped from $206 million in 2008 to $152 million in 2013, and the appearance of afros, dreadlocks, and other natural styles have become more common.
The fashion industry has become more progressive in terms of gender fluidity. As seen by Vogue featuring its first transgender model Andreja Pejic. This will help other transgender people feel more comfortable in the fashion world, as representation has been increasing.
The heightened influence of the fashion world has helped these minorities, whether they be in terms of race or gender, have more of a say. The representation of these people has aided their fight for equality and has spread awareness on an international level.
This also helps the impressionable students at CHS become more aware and proud of their cultures and race. With the praise and popularity of being connected to your culture, the students at CHS will benefit from this immensely, and be more confident with their background and themselves.
However, the fashion industry is still not completely in the clear when it comes to body shaming and cultural appropriation, it still is making its way to becoming more progressive. And as seen through the recent developments of representation for minorities, the fashion industry's sphere of influence can be a powerful tool when it comes to the struggle for social equality of all types of people.