The wheels on the bus go round and round, too fast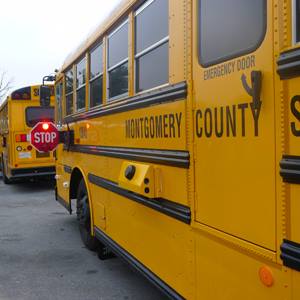 By Yash Nigam, Online Opinions Editor
March 23, 2015
Recent studies show that MCPS bus drivers are being cited more and more often for reckless driving. Many bus drivers fail to understand the repercussions of exercising poor judgment. Their slightest deviance from road safety rules has the potential to permanently alter the fates of all children aboard.
According to a February 2015 ABC News article, camera footage obtained by ABC News reveals many MCPS bus drivers running red lights, making haphazard lane shifts and not stopping at stop signs. Bus drivers have even been caught speeding in school zones up to 18 miles per hour above the speed limit.
While MCPS has implemented digital cameras and GPS monitoring in school buses as well as effective accident protocols, it still is not taking advantage of advanced technology that is being utilized in school districts nationwide to bolster school bus safety.
According to a September 2013 USA Today article, many school systems across the country use real-time GPS tracking systems that automatically flag drivers for making abrupt movements and, more importantly, for speeding in sensitive areas like school zones.
According to Todd Watkins, director of the MCPS Transportation Department, only half of MCPS' bus fleet is equipped with cameras and GPS. Moreover, the GPS system which MCPS uses in school buses is incapable of automatically detecting driving violations. Given that MCPS renews only one-twelfth of its bus fleet every year, it will take at least six years before all operational buses are fully updated with these safety technologies.
The driving records generated by real-time GPS tracking should also be made accessible to parents so that they can assess whether it is safe for their children to ride the bus.
If MCPS truly regards the safety and security of its students as its topmost priority, it will bear the costs of such technology and logistics to make accidents more preventable.
Those who view extra bus safety precautions to be unnecessary argue that bus drivers usually exercise more caution than parents who, according to the ABC News article, are proven to be the more reckless drivers.
However, these people fail to recognize that bus drivers are each responsible for, on average, more than 50 children. Their greater responsibility leaves less room for error, thus increasing the need for extra safety measures.
Given that MCPS is nationally reputed as a model school system, it needs to keep up with other districts in ensuring the safety and security of its students.