Snapchat's new feature Snapcash has its risks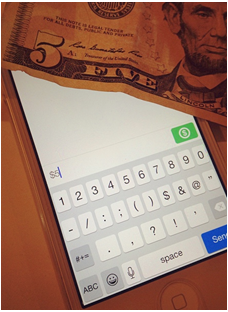 Earlier this week on Nov. 17, popular photo messaging app Snapchat partnered up with start-up company Square to release a new feature called "Snapcash." Snapcash allows users who are 18 and over and own a debit card to transfer money to friends' bank accounts just by typing in a dollar sign and a cash value.
While this new feature can be convenient for paying friends back for that time they bought you lunch, it poses multiple dangers that are not worth the convenience.
According to Snapchat's official blog, Snapcash is "fast, fun, and incredibly simple." But is it safe?
Teenagers use Snapchat all the time—so having money tied to Snapchat can result in careless or accidental spending. Furthermore, one quick typo can turn $5 into $50.
Or, perhaps, someone takes your phone and sends themselves money from your bank account. Not only will this be hard for you to discover, it will also make theft so much easier for anyone with a Snapchat account.
According to junior Monica Oves, the lack of password protection is concerning and is one of the reasons why she does not use Snapcash.
With Snapchat's recent security lapses and photo leaks, it is far too soon for them to introduce money into this already precarious business. Hackers are ubiquitous online and on social media, and making money transferable at the swipe of a button may lead to many complications.
Also, since Snapchat's idea of a "disappearing photo" causes many users to exchange inappropriate photos with the notion that they will disappear, Snapcash could result in monetary bribes for these photos.
Snapchat, while convenient and a great medium for communication, is already dangerous with the risk of hackers. Adding the Snapcash feature to the picture only makes Snapchat that much more risky to its users.
So, for those who have already updated Snapchat: be careful with the new feature, or you could lose money in a "snap"!